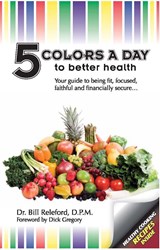 Los Angeles, California (PRWEB) September 16, 2013
In his book, "5 Colors to Better Health", Dr. Bill Releford lays out a straightforward lifestyle that promotes nutrition and health instead of one filled with fast and processed foods. Since the month of September observes not only childhood obesity awareness, but also recognizes the importance of fruits and veggies, and cholesterol education, Dr. Releford's simple advice to eat five colors a day to achieve better health is particularly relevant.
"It's way too convenient to grab a burger or a bucket of chicken and call it dinner," says Dr. Releford. "Keep this in mind, though: Just one fast-food meal can contain more calories, fat, and sodium than you should eat in a single day!"
The strategies in "Five Colors to Better Health" are easy to follow. Colorful, fresh foods have the most nutrients, and are good for you. Continues Dr. Releford, "Eating a colorful diet helps reduce blood pressure, can decrease the risk of heart disease and stroke, and lessen the incidence of diabetes and other chronic diseases."
To purchase "Five Colors to Better Health" and learn how to become fit and focused, visit: http://relefordinstitute.com/store/5-colors-a-day.
About Dr. Bill J. Releford, D.P.M.
Dr. Bill J. Releford, D.P.M., a graduate of the Temple School of Podiatric Medicine in Philadelphia, began his practice in 1990 and established the Diabetic Foot Institute, a facility dedicated exclusively to the reduction of diabetes-related amputations in high-risk populations. Dr. Releford is recognized both domestically and internationally as a leader in the field of diabetic limb preservation and wound care, and recently received prestigious awards from the Association of Black Cardiologists and the Regional Black Chamber of Commerce for his contributions to public health.
Dr. Releford is an assistant professor at Charles R. Drew University and lectures worldwide about the latest techniques in limb salvage and community-based outreach. He authored the book "Five Colors A Day to Better Health," and has been featured on "NBC Nightly News" with Brian Williams, ABC's "The View," and in The Washington Post, Newsweek, and The Los Angeles Times.
His community outreach and health-care advocacy efforts are facilitated through the Diabetic Amputation Prevention Foundation (DAP), a non-profit organization he founded in 2001. Its mission is to educate at-risk populations to better understand diabetes and its complications through community-based programs.
Dr. Releford and the DAP Foundation have been recognized for the success of the Black Barbershop Health Outreach Program. Since its inception in December 2007, the program has screened over 25,000 men for diabetes and hypertension in more than 450 black-owned barbershops in over 26 cities.