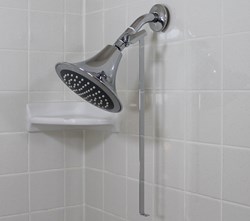 Water Select® Is Conservation With Immediate Effect
Dallas, TX (PRWEB) September 14, 2013
Showering at a hotel can be a luxurious indulgence where guests often use a substantial amount of water. The Water Select® showerhead valve works in conjunction with existing showerheads so guests can manage & regulate water flow in a pleasing and enjoyable setting.
There are specific things to look into when trying to figure out how a hotel can save water. One of the biggest places hotel guests consume water is in the shower. Now hotels can save water in the shower without sacrificing quality by offering guests a better showering experience with the Water Select® valve.
Hotels can extend guests more luxury in the shower by allowing full control over the flow of water with this new water saving green technology. It is quite nice to have the ability to maintain temperature when adjusting the flow and volume of water coming from the showerhead.
Each time a guest lowers the water flow, a savings is realized that also reduces energy costs since less hot water is being used. It is often feasible and even preferred to slow or stop the flow of water temporarily when soaping up, shampooing, or shaving. Using the imagination for a moment, things come to mind that can happen in a hotel shower that could be enjoyed more with full control over the water flow.
Staying at a hotel is a novel experience and for the novice traveler; hotels are the gateway to the adventures of a vacation and a respite after an eventful day. A well designed hotel stimulates the traveler to relax and enjoy a marvelous, uplifting experience. Many people forget the rules and regulations of home and immerse themselves in whatever feels good. Quite often a pleasing hotel encounter provides an indulgent experience.
Hotel energy management tries to control the amount of water used per guest by using reduced flow showerheads as well as information cards requesting guests to save water by letting hotel housekeeping staff know if they would care to re-use towels and bed linens.
The Water Select® shower head valve empowers hotels with water savings each time a guest uses the valve to adjust or even lower the water flow. Green hotels are more conscious of the environment and provide education to guests about living more eco friendly. Hotels help save water and energy not only by providing new water saving showerhead valves, but by becoming an example of how to become eco friendly just by having the devices in place for guests to see and use.
Many people in general learn through example. If all the hotels across America started utilizing the Water Select® valve it would not only save a lot of water and energy, it would also introduce many people to a revolutionary new product that everyone can benefit from.
Water Select® encourages hotels to acquire this new technology. It will provide a return on investment and help change the way people who are conscious about protecting the environment and saving water think about taking a shower. A Water Select® showerhead valve helps make the practice of conserving water a daily routine and will help save one of the nation's most precious resources – water.
Check out http://www.WaterSelect.com today and see how professionals in the water resource industry have illustrated ways to save water, sewer and electricity/gas and fast track our sustainability goals. Distribution opportunities available. Water Select® Is Conservation with Immediate Effect.