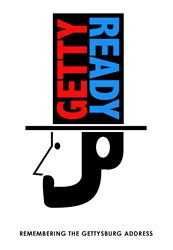 Salt Lake City, UT (PRWEB) September 16, 2013
On Tuesday morning, Sept. 17 (Constitution Day), Utah Governor Gary Herbert and Lieutenant Governor Greg Bell will join hundreds of school children, government employees, parents, teachers and citizen leaders in launching GettyReady. As a statewide civic education program, GettyReady is a non-profit coalition designed to encourage all of Utah to "learn and live" President Abraham Lincoln's Gettysburg Address and celebrate its 150th Anniversary. The GettyReady launch will commence in Richfield, Utah, where Governor Herbert and Lieutenant Governor Bell will join the students of Red Hills Middle School at noon to introduce the program. At the same time, students from five campuses of the American Preparatory Academy charter school will gather on the steps of the capitol in Salt Lake City, where first grade students will recite The Gettysburg Address, which they memorized in Kindergarten last year.
The events will be followed by a series of activities organized by GettyReady throughout the coming year to celebrate American democracy and the 150th anniversary of the iconic speech on Nov. 19. GettyReady's mission is to share President Lincoln's historic message, encourage all Utahans to memorize the 272-word speech, understand its value in today's society and live by its lessons.
"In 1863, Abraham Lincoln stood amidst Gettysburg's honored dead and enlisted all Americans in the struggle to ensure a 'new birth of freedom,'" said Governor Herbert. "Today, seven score and ten years later, it is incumbent on every Utahan to answer that call and enlist in the struggle to ensure that the 'government of the people, by the people, for the people, shall not perish from the earth.'"
GettyReady founders John Adams (Managing Director of Salt Lake law firm Ray Quinney & Nebeker), Michael Dunn (Chief Marketing Officer of Surefoot in Park City), and Derek Marquis (Managing Director of BYU Broadcasting in Provo), were inspired to create the Utah venture after viewing a PBS pre-screening of filmmaker Ken Burns' upcoming PBS documentary The Address, about the powerful impact that memorizing, reciting and studying the Gettysburg Address has had on students at a Vermont school for learning disabled boys. A Public Service Announcement with Ken Burns about the GettyReady launch can be viewed at gettyready.org beginning September 17th.
"The youth chronicled in The Address and their powerful learning experiences inspired our organic, grassroots initiative to celebrate the strength of our democratic nation through the words and teachings of the Gettysburg Address," said Adams. "One of the most famous passages in Lincoln's speech addresses the 'unfinished work' of honoring those who sacrificed for our country. As we continue to strive for national unity and watch as other countries struggle to form fledgling democracies, Lincoln's message stands the test of time and continues to teach us that the issues we face today can also be solved with effective communication and respect. Civility and courage have long survived the 150 years since Gettysburg, and will carry our young people into their own time of leadership."
The GettyReady initiative includes a web site (gettyready.org) with classroom curriculums, teacher support materials and a social platform to serve as a repository for people to share their experiences with the project. The site, created by the Utah Education Network, will address what individual citizens can do to make a difference in their family, neighborhood, city and state.
"The Gettysburg Address deserves recognition as a seminal American text, and our schools and communities will be enriched by a lively, interactive celebration of its anniversary," said Lane Beattie (GettyReady Advisory Board member and President and CEO of the Salt Lake Chamber of Commerce). "In 1863, when Lincoln spoke to dedicate a national cemetery to honor the sacrifices of fallen Civil War soldiers, slavery and hatred still existed. In 1963, when Dr. Martin Luther King, Jr., spoke on the steps of Lincoln's Memorial, the American Civil Rights movement was in full swing. Now, in 2013, it is time to examine what concerns us today about our collective freedom and how we can treat all people with equality and respect."
For more information on GettyReady, its curriculum and a timeline, visit gettyready.org.
About GettyReady
GettyReady is a cooperative effort of citizen and government organizations, including a signature partnership with the Utah Commission on Civic and Character Education, Utah State Office of Education, the Utah Education Network, the Utah State Bar, Utah Bar Commission & Bar Committee on Civic Education as well as Utah PTA/PTSA groups.