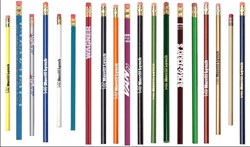 (PRWEB) September 14, 2013
TreePencils.com is a well-known China manufacturer of custom pencils, offering all kinds of custom art pencils, promotional pencils, watercolor pencils, 2b pencils, 6b pencils and many more. Today, the company announces a site-wide promotion of custom pencils, up to 35% off.
TreePencils.com's custom pencils sell very well in the USA market, and the company has received many positive reviews from its customers. The promotion, which will end on Sept. 28, 2013, is launched to show appreciation to all clients worldwide.
According to a sales manager of the company, this special offer will provide a w wide range of world-class pencils for pencil distributors. TreePencils.com wants to give the users much more than simplicity, functionality and convenience, which are ultimately concepts it believes are going to resonate with pencil users.
"All our custom pencils are made under strict quality control. We are happy to launch the promotion to make our products available to more people. Now, all pencils are offered at discounted prices, and the promotional prices will depend on the number that customers order," says, the CEO of the company.
About TreePencils
Founded in 1995, TreePencils is one of the fastest growing pencil manufacturers dedicated to providing the best pencil deals to its clients worldwide. It offers a wide range of high-quality, low-price custom pencils. The company aims to offer its customers more choices with affordable prices, and they accept customer's own designs as well.
For more information, please visit: http://www.treepencils.com/