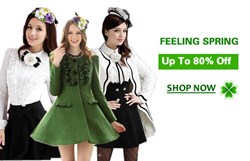 (PRWEB) September 14, 2013
The dress company 4leafcity.com has recently updated its website, unveiling its new collection of 2013 women's coats (http://www.4leafcity.com/product-women-s-coats-003012001.aspx), which are designed for women needing high quality coats and other dresses for the autumn 2013.
Not only are the new women's coats fashionable and functional, but the prices are so affordable; the prices range from $46 to $88. The company claims that every customer can receive a flat rate shipping; the orders over $50 are of free delivery worldwide as well. With nearly 2000 women's coats in stock and ready for shipment at any time, 4leafcity.com is ready for the possible shopping wave. According to a sales manager of the company, the special offer is available until Sept. 30, 2013. To sign up to become a member of 4leafcity.com, register online on its website please. Those who want to buy cheap women's coats should take action now.
4leafcity.com is a a leading women's clothing online store well-known for a great number of award-winning designs, and the company is looking forward to a greater success in the years ahead. With the distinctive marketing strategies and premium quality dresses, 4leafcity.com is not a dress company to underestimate. The company also ensures that every customer will receive a safe, secure and private online shopping experience.
Offering many trendy designs and fashion accessories, 4leafcity.com is a leader in the dress industry. The company is now examining the key issues affecting the market heading into 2014, and forecast growth and major changes through 2015.
About 4leafcity.com
4leafcity.com is one of the leading providers of women's dresses. The company carries a complete line of women's dresses, as well as elegant men's dresses and various accessories for men and women. For a full list of services and to learn more about 4leafcity.com, please visit http://www.4leafcity.com.