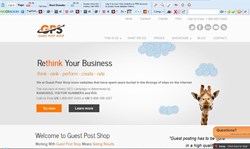 GuestPostShop offers top quality guest posting services!
(PRWEB) September 16, 2013
Ongoing development toward success
After a successful two-year run in the field of guest posting, Paul Estcott, the company's CEO, has decided to take business to the next level. The launch of the website represents a step forward in promoting the GuestPostShop brand and in expanding the agency's already varied client portfolio. Since 2011, The GuestPostShop has been putting its guest blogging services at the disposal of over fifty clients (both individual and SEO agencies) from all over the world, from a wide range of industries – from tourism to banking, to fashion, and to video games. This year, the company plans to boost its visibility, while continuing to provide quality content, entirely adapted to observe the recently launched Google Guest Posting Guidelines.
The value of understanding Google's rules
The guest posting webmaster guidelines from Google strictly prohibit page rank manipulation attempts through guest posting. Not only is The GuestPostShop aware of this, but the company has flourished in this field, without ever resorting to link schemes, keyword stuffing, spinning, or massive link exchange campaigns. The agency's track record of success is based on two simple ingredients: quality and relevance. As per the clients' choice, anchor text selection consultancy services can also be provided. The posts generated through this process are never product reviews or advertorials, as the writing and marketing team at The GuestPostShop strives to naturally introduce client links into the text. Our aim is to pique the readers' interest and encourage them to become brand ambassadors by their own choice.
Our process and strategy
At the moment, The GuestPostShop is able to produce 500 blog posts per month. All content is original, written by authors with expertise in the fields they are writing about and with experience in guest posting. Each content item is over 1,000 words in length and includes several other authority links, which strengthen the quality of the article. The material is geared toward being informative and news-worthy. Its content is adapted both to the niche of the promoted website, as well as to that of the site on which it is posted. Clients have the opportunity to approve both the written content, as well as the site on which it gets posted. Once a post goes live, the agency's community coordination staff manually responds to each reader comment, in order to boost awareness for the content.
Website: GuestPostShop.com