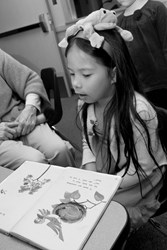 Orlando FL and Seattle WA (PRWEB) September 30, 2013
At the annual meeting of the Optometrists for VIsion Development, to be held in Orlando (FL) in October, Katie Johnson will present a short lecture and discussion on how she informally assesses her primary-grade students. "Children who seem perfectly normal and competent, with no obvious problems of any kind, STILL can't learn to read," she believes. "Often I find that they can't read because their eyes are not able to track across the print, or the two eyes are not working together." Red Flags
In her book "Red Flags for Primary Teachers," Katie Johnson presents many children she has worked with over her career as a classroom teacher. The book is full of puzzling children:
Katharine, for example, saw the words of Frog and Toad Are Friends slowly moving across the page of the book as she was trying - unsuccessfully - to read. Her eyes were not teaming together.
Amelia knew something was wrong when the story didn't make any sense -- as of course it wouldn't because her eyes were skipping down two lines of print instead of one. Her eyes were not tracking the print as they should.
Dr. Dan Fortenbacher OD, COVD, has studied these children in the optometrist office. http://visionhelp.files.wordpress.com/2012/06/visionhelp_ci-infographic.jpg
"There are probably many reasons or causes for this problem," adds Katie Johnson, "but my concern is that children need to have eyes that work well and it doesn't matter why they don't. The classroom teacher is too busy to fix the problem; my goal is that she be able to identify it."
Katie Johnson has been a classroom teacher in Maine and Washington since 1971. She has also trained elementary teachers in three teacher-preparation programs for more than thirty years; from 1990 until 2010 Katie Johnson was an adjunct faculty member in the Masters program in Literacy at Lesley University.