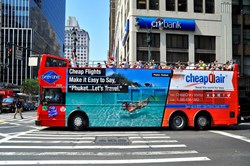 New York (PRWEB) September 17, 2013
CheapOair, a leading online travel agency, was recognized for its high standard of excellence within the travel industry. The company received three Magellan Awards in the Online Travel Services category for marketing, honored alongside top travel organizations and professionals worldwide.
"We are honored to receive these awards," said Sam Jain, CEO at CheapOair. "Our goal has been to raise awareness of CheapOair and the products and services we offer our customers. We are proud to be recognized for the work we put into helping them book affordable travel."
CheapOair's Travel the World for Less campaign was selected as a Gold Magellan Award winner in the Print Advertising category. The campaign reinforced CheapOair's brand promise to deliver quality and value supporting traveler's needs and wants, with fun and quirky taglines.
A Silver Magellan Award in the Website category recognized CheapOair's responsive website. The new, customer-friendly design, launched earlier in the year, uses flexible images and fluid grids that size correctly to fit the screen size for all desktop and mobile browsers, creating a seamless user experience for customers to book when they want, where they want.
CheapOair also received a Silver Magellan Award in the Promotional Video category for an animated advertisement for its mobile app. The video demonstrates how travel has evolved, and the role CheapOair has played in that evolution by making travel easier and hassle-free for customers looking to book travel, even to exotic destinations worldwide, on a budget.
To be the first to know, visit http://newsletter.cheapoair.com/ and sign up to have CheapOair's travel deals, tips and more sent directly to your inbox.
About CheapOair
CheapOair.com is a top travel website for millions of travelers who expect more for less. CheapOair scans over 450 airlines in seconds to return guaranteed low prices on flights, hotels, car rentals and vacation packages, making planning and booking trips easy and hassle-free. With 24-hour support by phone and live chat, award-winning apps for iPhone and Android, and travel tips on Facebook and Twitter, CheapOair makes affordable travel possible anytime, anywhere. Book travel on http://www.cheapoair.com/ or call 1-800-566-2345.
About Travel Weekly Magellan Awards
From design to marketing services, the Travel Weekly Magellan Awards honors the best in travel and salutes the outstanding travel professionals behind it all.