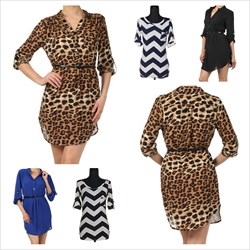 Phoenix, Arizona (PRWEB) September 16, 2013
The Tickled Pink Boutique is one of many online boutiques, but they recently opened for business with one goal in mind - to offer high quality clothes for the fashionable, price conscious women.
The owner, Diane Lockard, was recently asked why she decided to open an online boutique. "I found myself shopping online for cute clothes at affordable prices, but when I ordered from these online vendors I found one glaring issue - their customer service was sorely lacking. So I thought there was a need, and I wanted to fill that need."
In August of 2013, The Tickled Pink Boutique was officially launched.
"I was so excited to open this business and I'm having so much fun. Since we've opened we've really started gaining traction with our online presence. The biggest obstacle is having enough inventory to attract new customers. But over the past month we've sold a lot of our initial inventory which gives us the ability to grow. We've had so much initial success that we've been able to grow our inventory each week."
Lockard knows that the marketplace is saturated with competitors, but she believes her boutique has added something unique.
"Not only do we carry some of the latest trends, such as the cute chevron dress, but we also offer custom orders for lace boot socks. Our customers can select the collegiate or sorority of their choice and have their logo hand sewn on the boot sock of their choice."
"We offer customer service that is one of a kind. From our custom ordering process, to our free domestic shipping... we never let an inquiry or suggestion go unanswered."
"I am so excited to see what the next year has in store. But the best part of opening up this business has been the customers we serve," she said. "I feel great knowing that we are offering great products for a great price."