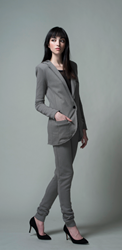 The Barneys customer is the very reason I created the SKIN concept and collection from its inception. - Susan Beischel, founder and designer of SKIN
New York, NY (PRWEB) September 17, 2013
SKIN, the luxury brand of soft pima and organic cotton intimate apparel and loungewear, launches its new sportswear collection in nineteen Barneys New York stores nationwide this month. The line's modern designs and casual yet refined styling reflect the SKIN customer: a woman who wants sophisticated, comfortable and versatile clothing to take her from morning to night. It is the brainchild of founder and designer Susan Beischel, who lives and breathes the Zen philosophy that her brand embodies.
The collection includes slim silhouettes in sophisticated sweatpants and luxe leggings, knit tops and sweaters, and soft stretch uptown blazers with a downtown everywear appeal. All fabrics are developed by SKIN and made in variations of 100% cotton, lycra spandex and alpaca wool. Retail prices are approximately $160 to $250 for blazers, $130 to $190 for leggings and #240 to $360 for sweaters.Tops sell for $60 to $120.
SKIN's soft cotton separates and organic intimate apparel have made their way into the wardrobes of many high profile powerful women for whom the brand has been a go to for casual wear for years. Fans include Oprah, Angelina Jolie, Carine Roitfeld, Sarah Jessica Parker, Christy Turlington and Halle Berry.
Beischel says of the launch, "I am honored to launch our sportswear at Barneys. The Barneys customer is the very reason I created the SKIN concept and collection from its inception. My intention and vision is to have a sophisticated, fashionable collection that can be worn every day, and everywhere."
Beischel's design edge hails from her years of experience in fashion retail. Prior to founding SKIN, Beischel was on the executive side of fashion, at Neiman Marcus and at Chicago's high-end specialty boutique, Ultimo. She launched the first free standing Jil Sander store in the US, a designer she cites as an inspiration for the purity and monochromatic nature of her work, which is evident in SKIN. This year, Beischel was inducted into the CFDA (Council of Fashion Designers).
SKIN is currently sold in over 300 stores including Barneys, Neiman Marcus, and Saks Fifth Avenue, and on the fashionable web sites Net-a-Porter and Shopbop.com. SKIN's intimate apparel launched in Selfridge's in London this month.