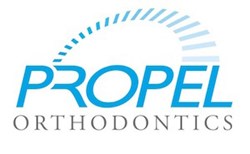 Dr Korwin says: "With New PROPEL, Invisalign treatment is 50% faster."
Red Bank, New Jersey (PRWEB) September 17, 2013
Dr. Robert Korwin proudly announces that an exciting new treatment called PROPEL that works with Invisalign is now being provided in our practice. PROPEL allows us to achieve the same excellent orthodontic results but with much shorter treatment times.
With PROPEL, orthodontic treatment is finished in about half the time with the average treatment time being reduced by 50% or more! Dr Korwin has been providing successful Invisalign treatment to hundreds of patients since 1995. He is an Invisalign Certified and Preferred Provider and a member of the Invisalign Customer Panel.
Dr Korwin says "In our continuous effort to offer the very best orthodontic treatment for our patients, we are proud to use PROPEL in our practice. PROPEL works with the patient's own biology by stimulating the bone surrounding the teeth; helping the teeth move faster and more predictably into their ideal position. The result allows us to provide the same orthodontic treatments but with much shorter treatment times. Treatment is typically 50% faster with PROPEL treatment!"
Patients' number one concern before starting orthodontic treatment to improve their smile is how long treatment will take.
Usually, each Invisalign aligner needs to be worn for 22 hours per day for 2 weeks to obtain the desired result. Most cases are 12 months in length and most need to have at least one refinement consisting of multiple additional aligners. PROPEL Orthodontics is a newly introduced system that speeds Invisalign treatment, with aligner changes twice as fast at 7 to10 days, and with reduced or no need for refinements. A 12 month treatment can then be completed in as little as 6 months.
PROPEL increases the local levels of cytokines around a tooth, making the rate of tooth movement during orthodontic therapy faster. Micro-osteoperforation, performed using the PROPEL® device, is the only micro-invasive option able to accelerate orthodontics.
In a study at New York University with PROPEL, speedier orthodontic movement by 50-60% or more was shown. PROPEL treatment can be completed in minutes, and yields very little discomfort to the patient. There is zero recovery time and the patients are able to immediately return to their normal daily routine. PROPEL is a simple and safe procedure. Dr. Korwin's patients who have had the procedure highly recommend it to other patients as a pain free method to speed Invisalign treatment.
About Robert Korwin DMD MICOI MAGD
Practicing in the Red Bank/ Middletown/ Monmouth County New Jersey area for over 31 years, Dr. Korwin holds a distinction held by less than one percent of all general dentists with a double Master of the Academy of General Dentistry as well as a Master of the International College of Oral Implantologists. Dr Korwin is one of only two highest honors graduates of the two year Progressive Orthodontic Seminars. He has held positions in state, and local organizations involved in dental care as well as having been appointed to two hospital dental training institutions, to the boards of the oldest dental sedation training organization in the US, and to a professional board appointed by Governor Christie of New Jersey. He has been honored by SLD, and by Straine Consulting as one of Americas Top Dentists, he has been designated as one of the best of Red Bank's dentists.
Dr. Korwin provides trusted, and excellent dental care providing cosmetics, orthodontics, implants, periodontal surgery, veneers, whitening and sedation.
Robert Korwin DMD MICOI MAGD, Advanced Dentistry with a Gentle Touch
562 State Route 35 Union Square Office Commons
Red Bank, NJ 07701 732-219-8900 http://www.drkorwin.com