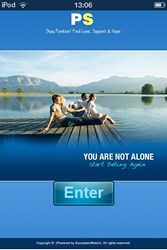 We are here to stay!
(PRWEB) September 15, 2013
PositiveSingles.com has renewed its domain name to 2024 as a bold move to let members know that the organization is here to stay to continue to provide the services on which thousands of them rely.
"PositiveSingles.com wants the world to know that we will continue our business and all people with a sexually transmitted disease are welcome to join our site. Current members on our site don't need to worry about whether or not we will shut down because we will be with them forever." These were the encouraging words recently expressed by the founder of PositiveSingles.com.
This statement was made to allay all fears as one of the leading online STD dating services (MPWH) for people with sexually transmitted diseases recently announced that they will be shutting down for good on November 1, 2013 after fifteen years of service. As one can imagine, many people who are members of this growing community became nervous at the thought that other such online communities might follow suit.
About PositiveSingles
It is an anonymous platform with over 756 000 members. It offers privacy and safety for all its members. Registration is swift, simple, secure; and most importantly, it is completely free of charge. It also offers HIV medical information and treatments, help and advice, live chat rooms, HIV live counselor, and much more.
According to investigation done by positivesingles.com, the distribution of people suffering from a range of STDs look like:
Age: 18-25, there are 23.98%
Age: 25-35, there are 29.69%
Age: 35-45 there are 31.57%
Age: 45-55, there are 4.41%
Age: 55-65, there are 1.55%
    Age: 65+, there are 8.80%
To know more about positive singles, please visit http://www.positivesingles.com/ or http://www.positivesingles.mobi (mobile version).