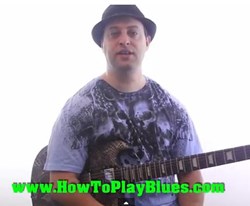 (PRWEB) September 15, 2013
Everyone wants to play the blues. That's why many pick up a guitar in the first place.
To ease that passage, Guitar Control, the leader in comprehensive DVD-based courses, announces the release of "Simplest Blues Turnaround - Guitar Lesson," the latest in their series of free instructional videos that are available on YouTube. This is the sixth in Claude Johnson's series of Beginner Blues Lessons that serve as an introduction to his more comprehensive offerings at Guitar Control.com and HowToPlayBlues.com. This lesson is simplicity itself -- a four note sequence that sings out a classic blues turnaround.
A turnaround is how a melody finds a way back to its beginning. Turnarounds are an integral part of the blues, but they are also commonly used in Jazz and Rock. A turnaround signals that the melodic phrase is finished and points the way back to the song's beginnings, creating a seamless transition that keeps the music going.
Boiling a blues turnaround down to four notes, this very elementary lesson demonstrates the value of Guitar Control's offerings for novice players. These are lessons that make things simple. But anyone starting out will do well to follow the link to Guitar Control's Blog, where the first five videos of Beginner Blues Lesson are to be found. One by one, they lead to the four-note turnaround of this lesson, and pave the way for learning the blues. In these six lessons, Claude doesn't burden the beginning student with musical theory, he simply shows them how to begin to play the blues.
Claude Johnson is the creator and driving force behind Guitar Control. A consummate player and a gifted instructor, Claude offers in this lesson the enthusiastic, accessible, and encouraging instruction beginning guitarists need to begin go play blues. However, his Guitar Control courses aimed at more advanced players cover the entire spectrum of guitar techniques and genres. His latest DVD course is "Supercharged Soloing Made Simple."
Guitar Control is a consortium of professional guitarists dedicated to providing the highest quality musical instruction. Producing both web-streamed lessons and comprehensive multi-DVD courses, Guitar Control offers instruction for every style of playing and for all musical genres. Guitar Control's YouTube channel offers 393 (and counting) free video lessons.