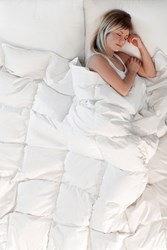 Chicago, IL. (PRWEB) September 16, 2013
This campaign will be held exclusively on the facebook page of naturerelaxbedding, from Sep.16 to Sep. 26. And the paid tester names will be drawn randomly and announced on facebook right after Sep.26. Once the testers names are announced, each tester will be contacted by Nature Relax and get a free comforter. lAll he or she has to do is to use the comforter for a week and write an honest review on Facebook to share the experience and benefits and how the product helped him or her with a good night sleep. Then he or she wil be paid $100 for the job.
There are only 2 simple steps to apply for this job.
Step 1: visit facebook page: naturerelaxbedding
Step 2: Like "Make Money While You Sleep" campaign message and leave a comment "I like Nature Relax " plus your name and phone number
"Using the advanced nano technology, the Aloe Vera extract is bonded with our 100% cotton fabric to give the linens not only a silky smooth feel with many therapeutic qualities and benefits, but also it makes the bedding products hypoallergenic because the Aloe Vera has natural anti-fungal and anti-bacterial benefits, and when infused with our linen products it keeps the linens naturally clean and hypoallergenic". Says Nature Relax.
Silver Antimicrobial line of comforters are developed exclusively by Nature Relax, using 100% cotton. Each comforter cover is treated with silver ion that was attached to textile fibers, creating long-term protection against the development of odor-causing bacteria, and making it resistant to mites, mold and spores and makes it hypoallergenic.It is the best comforter for people with sensitive skin and allergies.
About Nature Relax:
Headquartered in Chicago, IL, Nature Relax is a leader when it comes to innovation in the global home textile market. Designed in Chicago, IL, these luxury linens are produced from top quality down and cotton material at an affordable price. Nature Relax is using innovative technology to provide a full line of feature-rich luxury white goose down comforters, sheet sets, pillows, mattress covers and duvet covers. All Nature Relax products come with 10 years warranty.
To learn more, visit http://www.NatureRelax.net
To shop online, visit http://www.amazon.com/shops/NatureRelax
Visit our face book page : NATURERELAXBEDDING