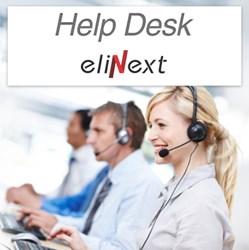 The major benefits the Help Desk may bring include enhanced client relationships, faster time to resolution, higher visibility into the support process, and saved money.
Waterford, Ireland (PRWEB) September 17, 2013
Elinext Group, a globally-acting provider of IT services and solutions, today announced the release of its new Help Desk system. This software is designed for managing the entire lifecycle of help desk incidents. According to the roles assigned, the system allows users to accomplish various tasks like creating new tickets, routing requests, closing tickets, updating request status, tracking the time spent, generating reports, and much more.
To maximize productivity and deliver exemplary support, organizations and institutions are increasingly looking for efficient help desk software systems. Elinext Group's solution makes it possible to create a consolidated service desk that unites and streamlines support operations. The major benefits the Help Desk may bring include enhanced client relationships, faster time to resolution, higher visibility into the support process, and saved money.
Key features of the Help Desk solution

High flexibility
Easy navigation
Intuitive User Interface (UI)
Request categorization based on the nature of requests
Integration with external applications through web services
Customer satisfaction rating for providing feedback about the answers received
Multilingual support
Detailed reporting and analytics.
"The Help Desk solution offers great customization options. We can easily adjust it to the needs of clients from diverse environments and business domains such as Financial Services, Banking, Healthcare, Telecommunications, IT, etc. Also, the Help Desk system can be distributed either as an individual product, or as a complement to a complex CRM and ERP system ensuring support for customers or employees. Moreover, it will soon be enhanced with a number of valuable improvements. In addition to the available on-premise installation package, we are now finalizing the creation of a full-value cloud version, as well as of a mobile version of the system," said Gennady Sergeenko, Elinext Group's Project Manager.
Planned updates
Live chat with chat-session recording and tracking
Central repository for tools such as trouble-shooting guides, problem-solving scripts, and recommended solutions
Cloud-based version that enables Help Desk executives to manage incidents from any connected machine using a web browser
Help Desk mobile applications for smartphones and tablets (iOS and Android), integrable with in-house and cloud versions, to provide customer support on the go.
"Live chat is an integral part of our solution. Phone calls, of course, remain a necessary communication vehicle in the business world. However, chat-based support channel significantly reduces overall support costs. The capabilities of our live chat can be used to enhance sales by providing immediate technical and product information, as well as for online meetings, trainings, presentations and other collaborative efforts with clients and between employees. Additionally, chat-session tracking enables to record and track all the details of chat sessions, so that there are complete transcripts for total accountability," said Eugene Grinkevich, Elinext Group's IT Consulting Director.
"Smartphones and tablets are becoming essential to our daily lives. Their adoption has impacted all consumer-driven industries. And many companies are nowadays willing to incorporate mobile apps for customer support and service into their strategies. With Elinext Group's mobile Help Desk, organizations can efficiently manage requests and take care of customer service needs via mobile devices," added Gennady Sergeenko.
For more information, please visit: http://www.elinext.com/help-desk-solutions
Become our fan on Facebook: http://www.facebook.com/elinext
Follow us on Twitter: http://twitter.com/elinext
Business inquiries: Eugene Grinkevich, IT Consulting Director, eugene.grinkevich(at)elinext(dot)com
About Elinext Group
Elinext Group is a global provider of custom software development and IT consulting services for a wide array of industries, including advertising, banking, e-commerce, finance, healthcare, hospitality, real estate, retail, tourism, telecommunications and others. Elinext Group's companies specialize in custom software development, mobile development, web development, TV app development and game development.