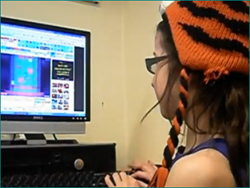 At least this way I know the games he plays are benefiting him.
Toronto, ON (PRWEB) September 17, 2013
The Thinking Skills Club is a computer game website with a twist: instead of wasting brain cells, it builds them up using games that develop working memory, sustained attention and even empathy. Mainly marketed to schools, the site is now telling parents it's okay to play at home.
"My son always had to be dragged off the computer in the morning," says club founder Mitch Moldofsky. "At least this way I know the games he plays are benefiting him."
If your 9 year-old is stuck to the computer screen zapping zombies when you're trying to get out of the house, this site may be for you. It's free to play the games, the only charges come if a player wants to track their progress via a brain puzzle which appears on the site's Home Players page. "So many of these things are proprietary and costly," says Moldofsky. "I wanted it to be accessible to all."
Moldofsky, a developer of online courses for financial services clients, returned to school in 2008 to study how we learn, graduating last year with a degree in Cognitive Science. He developed the club to bring together games his kids enjoyed but which his studies showed also stimulated brain areas involved in academic success. Slow readers, for instance, can play Up Beat, a music game, to strengthen visuo-auditory links that also impact reading speed and comprehension.
Parents can also browse the "Grown Ups" side of the website, which explains why these games were chosen and even links to the supporting research. "Transparency is very important to me," says Moldofsky. So is openness: many of the games on the website were suggested by the kids who come to his own club at Palmerston Ave. Public School in Toronto, Ontario. "Seeing how the kids enjoy the games is a rush," he says. "To know they're learning while having fun makes it all worth it."
About The Thinking Skills Club:
The Thinking Skills Club is an after school activity that uses online games to enhance attentiveness, working memory and other cognitive skills that underlie academic success, for grades 3-8. It is a curated site comprised of a variety of brain-positive games sourced from recreational gaming websites based on published neuroscience research. To learn more about The Thinking Skills Club, please visit http://www.thinkingskillsclub.com/.