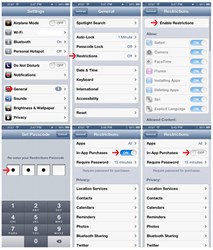 critical to protecting your iPad is not giving your child the password to your iTunes account
London, Birmingham, Leeds, Glasgow, Sheffield, Bradford, Edinburgh, Liverpool, Manchester (PRWEB UK) 16 September 2013
Many iPad apps allow you to buy additional features, functionality, and content, or in games, expansions, in-game resources, or character upgrades. Buying these sorts of upgrades from within apps is called in-app purchasing. Many parents have been caught out by charges for purchases within iPad games. Horror stories of children making in-app purchases totaling thousands of pounds are prevalent. In these cases the iPad's used by the children have not been properly locked down by the parents.
At iPad Repair Services Fellipe states "some of our customers are learning the hard way that in app purchases are enabled by default. No right-minded parent knowingly gives a five-year-old a credit card in a toy shop". Apple does a fantastic job of making complex technology simple to use, but it remains complex technology — often with lots of different options.
Fellipe urges "if you have an iPad that you are using with your child be sure to configure the parental controls. These settings can help protect younger family members from content they shouldn't see online and protects your wallet from the risk of them buying hundreds of in-app purchases on your account".
To restrict the content that can be viewed on the iPad, go to Settings, tap General and then tap Restrictions. Tap Enable Restrictions at the top of the screen, and you'll be prompted to enter a four digit passcode twice. Felippe states that "if you don't want your child accessing the camera, Safari, iTunes and other apps, you can turn them off here. When they are off, they no longer appear on your home screen".
He goes on to explain that directly underneath the allowed apps is the Allowed Content section. "This section lets you set the ratings for Podcasts, Music, Movies and other media on the iPad. You can restrict access to explicit content by adjusting these settings to an age-appropriate level. Also in this section is the In-App Purchases slider which should be set to off, if you want to block all in-app purchases. If you want to allow in-app purchases, you can leave them on and control purchases by changing the Require Password setting to Immediately and not the default 15 minutes. This will force your child to enter a password every time they try to make a purchase".
Felippe explains that "critical to protecting your iPad is not giving your child the password to your iTunes account. It will give them complete access to the device and the ability to undo all your security settings. To change or disable Restrictions, you need your Parental Controls passcode, so don't forget it. If you do forget your PIN, you have to 'restore' your iPad to its factory settings".
All work at iPad Repair Services is carried out by skilled technicians with many years of experience in the Apple repair sector and they're able to provide expert advice on how to protect your iPad. They specialize in fixing iPad's and this is backed by an unbeatable one year warranty. This goes a long way in giving you peace of mind when it comes to the repair of your iPad.
To find out more about the services offered by iPad Repair Services visit http://www.ipadrepairservices.co.uk/ or call Freephone 0800 033 7508. iPad Repair Services is part of the Hello Techy family of tech repair businesses.