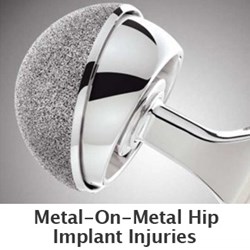 Free DePuy hip replacement lawsuit case evaluations are available through www.yourlegalhelp.com, or call 1-800-399-0795
Columbus, OH (PRWEB) September 16, 2013
The DePuy Hip replacement recall lawyers at Wright & Schulte LLC, an experienced defective medical device law firm, report that jury selection in the first federal trial of a DePuy ASR hip replacement recall lawsuit will begin on September 24, 2013. According to court documents, the case, which is the first of more than 7,800 DePuy ASR hip implant recall claims to go to trial in the U.S. District Court, Northern District of Ohio, was filed on behalf of a Rochester, New York, woman who was implanted with an ASR hip in 2009, only to have it removed due to complications in 2011. (McCracken v. DePuy Orthopaedics Inc., et al., No. 1:11-dp-20485)
According to a report from Bloomberg News, more than 11,500 DePuy ASR hip replacement lawsuits were filed in federal and state courts throughout the country in the wake of the 2010 DePuy ASR hip recall. The case scheduled for trial later this month in the Northern District of Ohio is one of seven DePuy ASR hip replacement lawsuits scheduled to head to a jury in the next several months. DePuy Orthopaedics has reportedly discussed paying as much as $3 billion to settle product liability claims filed over the device, and the outcome of these trials could significantly impact DePuy ASR hip recall settlement negotiations, according to Bloomberg.com.
[bloomberg.com/news/2013-08-21/j-j-said-to-weigh-3-billion-settlement-of-its-hip-implant-cases.html, Bloomberg News, August 21, 2013]
Wright & Schulte LLC is offering free case evaluations to DePuy ASR hip replacement recipients who suffered serious complications including:

Metallosis
Loosening of the implant
Pain
Swelling
High levels of chromium and cobalt ions in their blood
Premature failure resulting in revision surgery
For more information on filing a DePuy hip replacement lawsuit, or to arrange for a free legal consultation, please visit yourlegalhelp.com, or call 1-800-399-0795.
The DePuy ASR hip replacement is a metal-on-metal hip implant that was recalled in August 2010 after data revealed the devices were failing in 12-13% of patients within just five years. The DePuy ASR recall brought scrutiny to the entire class of metal-on-metal hip implants, and in January, the U.S. Food & Drug Administration warned that these devices are more likely to fail early than other types of implants.
[fda.gov/medicaldevices/productsandmedicalprocedures/implantsandprosthetics/metalonmetalhipimplants/default.htm]
Earlier this year, two DePuy ASR hip recall lawsuits went to trial in state court. The first case ended in March with the jury awarding $8.3 million to the Plaintiff. (Kransky v. DePuy, BC456086, California Superior Court, Los Angeles County) However, a second case tried in Illinois a month later was decided in favor of the company. (Strum v. DePuy, 2011-L-9352, Circuit Court of Cook County)
About Wright & Schulte LLC
Wright & Schulte LLC, an experienced personal injury firm, is dedicated to the belief that America's legal system should work for the people. Every day, the attorneys of Wright Schulte LLC stand up for the rights of people who have been injured or wronged, and fight tirelessly to ensure that even the world's most powerful corporations take responsibility for their actions. If you're looking for a law firm that will guarantee the aggressive and personal representation you deserve, please do not hesitate to contact Wright & Schulte LLC today. Free DePuy hip replacement lawsuit case evaluations are available through yourlegalhelp.com, or call 1-888-365-2602.
Contact:
Wright Schulte LLC
812 East National Road
Vandalia, Ohio 45377
1-800-399-0795