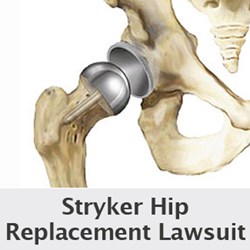 If you or someone you love were injured by Stryker Hip recall, please visit yourlegalhelp.com, or call 1-800-399-0795 for a FREE Stryker Hip Lawsuit evaluation.
Columbus, OH (PRWEB) September 15, 2013
The Stryker hip recall lawyers at Wright & Schulte LLC, an experienced medical device injury law firm, report that the multidistrict litigation established in U.S. District Court, District of Minnesota, for Stryker Rejuvenate hip replacement lawsuits convened its initial Status Conference on September 9, 2013. According to court documents, the Court took up a number of issues at that time, including the selection of Plaintiffs' Lead and Liaison Counsel, and the Plaintiffs' leadership structure. (In Re: Stryker Rejuvenate and ABG II Hip Implant Products Liability Litigation, MDL No. 2441)
According to Wright & Schulte LLC, the litigation of product liability lawsuits filed in the wake of the Stryker hip replacement recall for Rejuvenate and ABG II hip stems is only in its early stages, and there is still time for potential plaintiffs to file their Stryker Hip recall claims. Wright & Schulte LLC is offering free Stryker hip replacement lawsuit consultations to individuals who allegedly suffered serious complications due to the recalled Stryker Rejuvenate and ABG II Modular-Neck Hip Stems, including:

Metallosis
Tissue death
Osteolysis
Damage to bone and tissue
Inflammation
Premature failure of the implant
Infection
Loosening of implant
Formation of pseudotumors
For more information on filing a Stryker Rejuvenate hip implant recall lawsuit, or to arrange for a free legal consultation, please visit yourlegalhelp.com.
The Stryker hip replacement recall was announced in July 2012, after Stryker determined via postmarket surveillance that Rejuvenate and ABG II hip stems were associated with high rates of corrosion at the modular-neck junction. This action can cause the Rejuvenate and ABG II stems to generate excessive levels of metal ions, which can accumulate to unhealthy levels in the tissue surrounding the joint, and in the blood stream. According to Stryker, patients who have experienced this phenomenon have suffered pain, and adverse local tissue reactions.
[literature.ortho.stryker.com/files/REJUV_COM_23.pdf]
Court documents indicate that just over 500 Stryker hip replacement lawsuits have been filed in courts around the country on behalf of patients affected by the Stryker Rejuvenate hip implant recall. (In re Stryker Rejuvenate Hip Stem and the ABG II Modular Hip Stem Litigation, No. 296) In addition to the claims pending in Minnesota federal court, just over 300 Stryker hip implant lawsuits that involve similar allegations are pending in a consolidated litigation underway in New Jersey's Bergen County Superior Court. The lawsuits in both the state and federal proceedings claim that recipients of Rejuvenate and ABG II stems have suffered metallosis, necrosis, osteolysis and other serious complications, allegedly due to the defective nature of the components. The lawsuits further allege that many Stryker hip recall patients have undergone revision surgery to have their failing Stryker hip removed, while others will likely need revision surgery in the future.
While the federal Stryker hip recall litigation has only begun to get underway in Minnesota, court records indicate that the proceeding established in New Jersey Superior Court has been underway for several months now. According to an Order issued in the New Jersey litigation on August 12th, 10 Stryker Rejuvenate hip replacement lawsuits filed there have been selected for early mediation. The Order also states that the first mediation session to discuss possible Stryker hip replacement settlements will take place no later than December 15, 2013.
About Wright & Schulte LLC
Wright & Schulte LLC, an experienced personal injury firm, is dedicated to the belief that America's legal system should work for the people. Every day, the attorneys of Wright Schulte LLC stand up for the rights of people who have been injured or wronged, and fight tirelessly to ensure that even the world's most powerful corporations take responsibility for their actions. If you're looking for a law firm that will guarantee the aggressive and personal representation you deserve, please do not hesitate to contact Wright & Schulte LLC today. Free Stryker Rejuvenate and ABG II Modular-Neck Hip Replacement Stems lawsuits case evaluations are available through yourlegalhelp.com, or call 1-888-399-0795.
Contact:
Wright Schulte LLC
812 East National Road
Vandalia, Ohio 45377
1-888-399-0795
http://www.yourlegalhelp.com