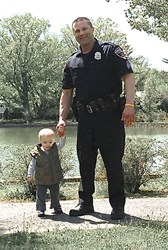 Even heroes sometimes need a hero to help them.
New York, NY (PRWEB) September 17, 2013
Although Jake Staniszewski is only 21 months old, he has already endured a lifetime of pain. Last February Jake was diagnosed with a rare and aggressive form of pediatric cancer called rhabdomyosarcoma alveolar. Now WishGivers.org is helping Jake's dad, a NY police lieutenant and 9/11 first-responder, by holding a fundraiser dinner cruise on October 3, 2013.
WishGivers.org was founded by another 9/11 first-responder, retired NYC fireman, PJ
Schrantz. Those who help others, like cops and firefighters, don't like to reach out for help, says Schrantz. "I understand that mentality," says Schrantz, "While I was fighting fires at Ground Zero, my firstborn son was fighting leukemia."
Schrantz's son died at the age of seven. From that tragedy, WishGivers.org was born. WishGivers.org helps the critically ill children of America's military, police and firefighters. Tamara Lowe, co-founder of WishGivers.org, says, "Even heroes sometimes need a hero to help them. That's why we are holding this fundraiser."
On October 3, 2013 ninety guests will board a 126-foot luxury yacht to enjoy a sunset cruise around the Statue of Liberty and New York harbor. The evening will also include live entertainment, a silent auction, and presentation of the WishGivers Hero of the Year Award to television news anchor Tara Setmeyer Love.
The $199 tickets are available online at WishGivers.org. All proceeds will help the Staniszewski family pay medical bills.
WishGivers.org helps the critically ill children of America's military, police and firefighters. For more information about the children they are helping or their NYC cruise fundraiser, please visit http://WishGivers.org