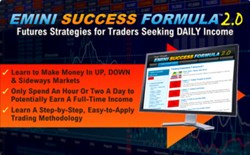 I truly believe this mentoring program is all a person needs to become a consistently successful E-mini futures trader.
Bingham Farms, MI (PRWEB) September 17, 2013
"The last release of the E-Mini Success Formula sold out within a few days," said Todd Mitchell, founder and CEO of Trading Concepts, Inc. Mitchell is excited about today's launch of the E-Mini Success Formula 2.0. The four part program includes training modules, mentoring, exclusive member's area access, and daily videos to help reinforce and expedite the learning process. This program has not been available since November, 2012.
Trading Concepts allows a limited number of students to enroll in the E-Mini Mentoring Program in order to provide a superior learning environment for each student. More than 10,250 students have benefited from this program over the years. Here are some comments from people who have taken the mentoring program:
"It has helped change my life." – Dave G.- TX
"Super Trading Methodology!" – Doug M. – PA
"The major contributor to my trading success." – John O.
Here are some of the concepts students will learn in the E-mini Success Formula 2.0 mentoring program to help meet their trading goals:

Developing the proper skills and the right mindset for successful trading
A step by step guide to building a trading business plan
Money management and trade sizing strategies
Trading Concepts' proprietary Market Flow Analysis Method™ (MFAM)
Key times of the day when one can expect the markets to move
3 reliable Powerful Price Patterns that can be traded with confidence
What to look for and how to think at the start of the trading day
Trading strategies and techniques for trading the intra-day trends
General principles and specific applications for managing trades
Tips and market insights on specific topics for trading E-mini futures
Identifying and trading high-probability counter-trend trades
Advice on successfully executing a trading plan
Quick-reference strategy guides and checklists
For more information on The E-Mini Success Formula 2.0 mentoring program, please visit http://www.EminiSuccessFormula.com.
"This mentoring program is literally priceless and provides unlimited lifetime access to the program and to daily videos, along with the ability to contact me personally," Mitchell said. I truly believe this mentoring program is all a person needs to become a consistently successful E-mini futures trader. It's definitely worth the time to check it out." Mitchell added that the program will only be available for a limited time.
ABOUT TODD MITCHELL:
Todd Mitchell has been involved with the markets since 1988. His training success has been tied to consistently developing and improving his trading approach based upon the use of bar charts. Todd Mitchell's entire approach to trading is to be honest and straightforward. Todd's love for the markets and his love for teaching echoes throughout all of his work. Todd is founder and CEO of Trading Concepts, Inc.
ABOUT TRADING CONCEPTS, INC.:
Founded in 1994, Trading Concepts quickly established a reputation as one of the industry's finest educational companies in the world. As one of the oldest, most respected trading education companies in the industry, they are proud to have mentored over 10,000 traders in Forex, E-mini futures, Options and Stock Trading, bringing them powerful trading strategies and money management techniques that have previously only been available to professional traders.