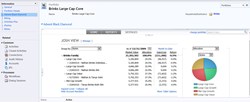 We are committed to providing an integrated desktop that advisors need to build their business and service their clients. Integration with Advent Black Diamond provides advisors real time access to portfolio information inside Salentica CRM
Toronto, ON (PRWEB) September 17, 2013
This latest integration represents the next step in Salentica's ongoing development strategy to build out the most robust integrated CRM solution for wealth managers on the Microsoft Dynamics CRM platform.Salentica's Advent Black Diamond integration was built using Salentica's Data Broker platform and is powered by Microsoft Windows Azure, a secure cloud-based authentication broker and integration solution that supports integrations to leading back office and custodian data sources.
"We are committed to providing an integrated desktop that advisors need to build their business and service their clients. Integration with a leading industry provider like Advent Black Diamond provides advisors real time access to portfolio information inside Salentica CRM which is a big part of our integration strategy," says Bill Rourke, President of Salentica.
Salentica is a proud sponsor of the Advent Users Group 15th Anniversary Members Networking Reception on September 17, 2013 in San Francisco at the annual AdventConnect conference. This is in conjunction with our participation as an exhibitor at the AdventConnect 2013 Conference, which will take place at the Marriott Marquis Hotel from September 18-20, 2013. The Salentica CRM will be available for demonstration and viewing during the exhibition with a special focus on Advent APX®, Axys® and Advent Black Diamond integrations. Find out more about Salentica and these events at http://www.salentica.com/events/2001-2/.
About Salentica CRM
Salentica is the leading provider of integrated wealth management solutions on the Microsoft Dynamics CRM platform, serving the needs of private wealth managers and Family Offices for over 16 years. Salentica CRM is offered as both an On Premise and Cloud based solution, is built on the Microsoft Dynamics CRM framework and is Certified for Microsoft Dynamics. Our solution provides advisors with a complete view of the client through our pre-built integration solutions to industry leading providers including Schwab OpenView Gateway, Laser App, Advent Axys and APX and more. Salentica is also a Gold Certified Microsoft Dynamics CRM partner.
About Salentica Data Broker
Salentica's Data Broker integration platform provides real-time data responses to Salentica solutions built on Microsoft Dynamics CRM. Traffic between the CRM and the Data Broker are secured via a mutually authenticated SSL connection using Microsoft Windows Azure technology.
Data requests initiated by the user are sent to the Data Broker, from there, the Data Broker fulfills the request by retrieving data from a partner or supplying an identity assertion so a CRM user can be logged into the partner site. The CRM solution can be deployed in the Cloud or On Premise without the need to create an internet facing deployment.
Microsoft Windows Azure is an open and flexible cloud platform that enables companies to quickly build, deploy and manage applications across a global network of Microsoft-managed datacenters.
For more information, contact Bill Rourke, President, Salentica at 212-672-1777 x222 or brourke(at)salentica(dot)com.
Salentica CRM™, is the property of Salentica Inc.
###
245 Park Avenue, 39th Floor
New York, New York, 10167-0002
p: (212) 672-1777 f: (212) 792-4001
121 King Street West, #840
Toronto, Ontario, M5H 3T9
p: (416) 366-3456 f: (416) 366-7690