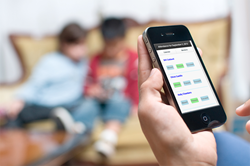 With the new mobile app, leaders can now take attendance from anywhere.
Minneapolis, MN (PRWEB) September 17, 2013
Best Attendance, a Minnesota-based firm servicing nonprofit and volunteer organizations, announced today the official release of its mobile attendance application. The mobile app integrates seamlessly with its web-based solution, and allows leaders of nonprofit, community, religious, and educational organizations to track attendance at events even when they are away from a computer.
In 2011, Best Attendance launched a web-based product which helps leaders of community organizations to increase the engagement of their members, volunteers, and students. The web-based product provides group texting capabilities, recruiting drive management, shared calendars, and powerful attendance reports that help leaders identify members at risk of falling through the cracks.
The primary disadvantage of taking attendance on the web, of course, is that users could only do it while sitting at a computer. With the new mobile app, leaders can now take attendance anywhere. This is especially useful for organizations that don't always meet indoors, don't always meet at the same place, or don't have an internet connection where they meet.
The mobile app is compatible with all modern smartphones and tablets running iOS or Android. Because it is tightly integrated with the web application, any check-ins on the mobile app are also visible in the web application. Best Attendance offers a free 45-day trial, and more information can be found on its website.
Best Attendance is a Minnesota-based software firm focused on helping leaders of community and volunteer organizations to increase member engagement. The company was founded in 2003 and released its web-based application in 2011.