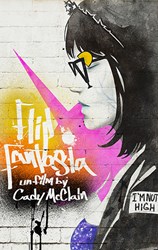 I'm very proud of this film. It is sort of my love song to New York City.
Los Angeles, CA (PRWEB) September 16, 2013
Cady McClain, best known for her Emmy-winning roles on "All My Children" and "As the World Turns," will make her short film "Flip Fantasia" available to the public on vimeo.com beginning at 9:00 AM, PST, Tuesday, September 17, 2013.
The film follows four young urban men through the after effects of a wild night out in NYC and the emotional process of letting go. It also marks McClain's directorial debut, adding her to the growing number of women in the entertainment business to venture into filmmaking from the other side of the camera.
"I'm very proud of this film. It is sort of my love song to New York City, and to youth. I'm making it available online so that everyone can see it. My hope is that people will both laugh and be moved by the film," McClain stated.
The film's website adds from Cady, "So what is 'Flip Fantasia'? Well, it's kind of a combination of [edgy artistic] influences, practices, and my life experiences. It's surreal and spiritual. It's full of color and pain. It's everything I love and a lot of what I know about life, all wrapped up in one tiny little bundle."
To watch "Flip Fantasia" (after 9:00 AM pacific time, Tuesday, September 17th) viewers should visit http://vimeo.com/72527057 for the English version, and https://vimeo.com/user18752142 for the movie with Spanish sub-titles.
McClain brings together realistic social situations and intimate human emotion and drama in this quirky, heartfelt piece starring real life couple and newcomers Christopher Gabrial Nunez as Ernesto and Julie Lucas as Belle, Gil Zabarsky (of Tribeca's "Teacher of the Year" fame) as Bird, Eden Marryshow (Boardwalk Empire) as Smeg, and Clinton Lowe (The Hustle) as Sheik.
"Flip Fantasia" is written, directed, and produced by Cady McClain. Cinematographer is Alex di Suvero. Makeup and makeup effects artist is Norman Bryn (Cloverfield, The Namesake, Monster Quest). With an eclectic mix of breakout talent on the film, it's no surprise there is an equally eclectic mix of music, from Jazz by Eri Yamamoto and George Walker Petit, to ballads by New York singer songwriter Peer Bazarini, hip hop by Anonymous (And.On.I.Must) a.k.a. lead actor Christopher Gabriel Núñez, as well as two New Orleans artists: a 1920's song from Linnzi Zaorski and a rock ballad by the band Firebug. The collective cast and crew's geographic reach spans multiple regions (New York, Florida, Louisiana, Texas, California) and many cultures (Columbian, Israeli, Native New York, Mexican, West Indian, and Southern.)
A full list of cast and crew is available on the film's website.
To interview Cady McClain or any member of the cast, contact Lisa Jey Davis via the contact info or call 310.384.0325.***
Other Links:
Facebook: facebook.com/FlipFantasiaTheMovie
Twitter: twitter.com/FlipFantasiaMov
Instagram: instagram.com/flipfantasiathemovie/
Pinterest: pinterest.com/flipfantasiamov/
Vimeo: vimeo.com/user18752142/
Youtube (Cady McClain): youtube.com/blueglitterfish