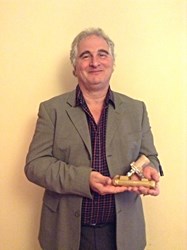 (PRWEB UK) 16 September 2013
Norfolk-born serial inventor Alan Wright, of Thorpe St Andrew, Norwich, announced today that he has finalised production plans for existing pumps and for a new fully automatic showerpowerbooster which will be available from 15th October. Production will involve much of the clever electronics being manufactured in Norfolk, and all of the final assembly to be in Buxton, Derbyshire, within Flowflex's existing factory.
The components for the new pump are resourced from all over the world, including sophisticated flow rotors from Gem Sensors, a major US company. The first components to kickstart the production are in transit, arriving in the UK 18th September.
Even without the new pump, and despite failing to gain investment in Dragons' Den, the sales of the original pumps have doubled and redoubled in recent weeks, with the pump being widely sold in the UK. There are international sales and interest as far afield as the Caribbean, to run an ice-making machine, Australian outback cattle ranches, New Zealand, India, Africa, and Bolivia. A licensing and manufacturing deal worth £12.5 million per annum has been agreed.
Production in the UK will help Alan Wright keep a tight control on quality and performance for the innovative pump. This extraordinary pump has a UK patent granted and has in the past won over £20,000 in innovation awards from UK universities in recognition of its science, including €16,000 from Imperial College London for Best Water Innovation 2012.
'We used to sell just one or two pumps a week, and then one or two pumps a day. We knew the product was good, but we needed to know the product was reliable. Getting pumps fitted in real houses and having resources to support our customers was the top priority. We now know from feedback that the pumps are reliable. Even with no advertising, by selling just through our website http://www.showerpowerbooster.co.uk, we are now selling more pumps in a day than we used to sell in a week, and in the last 3 months have sold as many pumps as we did in the first 18 months.'
'Much of what we are doing goes against the tide of what others are doing. Bringing manufacturing into the UK and exporting a UK product from the UK is one aspect, but the product is also fully serviceable with interchangeable components, and you can even change a pump motor simply by unscrewing the old pump and screwing in a new pump.'
'Whilst the new product allows a relatively unskilled DIY person to improve a poor tap or shower flow without the help of a plumber or electrician, we are now selling 1/3 of our pumps to plumbers who are solving problems for their customers.'
About ShowerPowerBooster
The showerpowerbooster is a small in-line water pump, which is the size of a golf ball yet outperforms some pumps as big as a football. Unlike traditional pumps it can improve showers and taps for almost any plumbing system, from the common gravity flow systems in many UK houses to combi boilers, electric showers, wood burners, fortic tanks, Bolivian "hidro tanks", and solar thermal systems in the UK, Spain, and Cyprus.
About Wrightsolar Ltd
Wrightsolar Ltd is an innovation company and invented the showerpowerbooster as a spinoff from its solar thermal innovations and research. It is working with and has agreed a licence deal with Flowflex, a large UK owned and operated manufacturer based in Buxton, Derbyshire.
To learn more about showerpowerbooster visit showerpowerbooster.co.uk or contact
Alan Wright Bsc (Hons)CEng MICE
36 Howard Close
Norwich NR7 0LE
01603702775