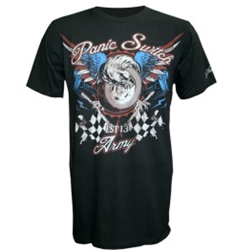 "I'm really excited about my Panic Switch Army signature shirt hitting the shelves," Keselowski said.
San Clemente, California (PRWEB) September 16, 2013
Brad Keselowski, NASCAR superstar and driver of the No. 2 Miller Lite Ford Fusion, has partnered with cutting-edge action sports apparel line, Panic Switch Army, to debut a signature, limited-edition t-shirt.
"Anyone who knows me understands that I stay authentic to myself and products and services I am associated with," Keselowski said. "Panic Switch Army came up with an excellent design and it is true to myself and what I would wear on my own."
The Brad Keselowski Elite T-Shirt in black boasts bold colors, racing's signature checkered flags and graphics that resonate with motorsports enthusiasts.
"Panic Switch is proud to announce our latest signature tee with the legendary Brad Keselowski," said Luke Burrett, founder and CEO of Panic Switch Army. "He's a prominent force both on and off the track and we couldn't be happier to have him as part of the army."
With a strong legacy of success in the racing world, Keselowski was further propelled into the spotlight after securing the 2012 NASCAR Sprint Cup Series Championship. The victory was especially significant due to the fact it was the first NSCS win in Penske Racing history.
Keselowski enters 2013 looking to repeat as the NSCS champion and continue his impressive performance in the NASCAR Nationwide Series and NASCAR Camping World Truck Series competitions.
"I'm really excited about my Panic Switch Army signature shirt hitting the shelves," Keselowski concluded.
Brad will be lighting up the track at his next race, the Sylvania 300, scheduled for Sept. 22, 2013 at the New Hampshire Motor Speedway in Loudon, New Hampshire.
About Panic Switch Army
Panic Switch Army, Southern California's new gasoline-fueled action sports apparel brand, founded by former Silver Star owners Luke Burrett and Charis B., is inspired by extreme sports and music that caters to an adrenaline-charged lifestyle.