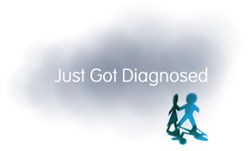 Communicating with your doctor. It's not only about what is said but how it is said.
New York, NY (PRWEB) September 17, 2013
Dr. Gary McClain has published a new article, "What To Do When Your Doctor is Rude or Scolding" on his website, JustGotDiagnosed.com. A specialist in the emotional impact of chronic and catastrophic illnesses, Gary McClain, PhD, developed JustGotDiagnosed.com to address a serious need he saw going unfulfilled; namely, a way for newly-diagnosed patients to receive help in coping with their emotional reactions to their diagnosis. Dr. McClain also blogs on the online patient community site, AllianceHealth.com, where this article was originally published.
"Doctors are human, too," McClain said. "They have days when the pressures of their work get in the way of their bedside manner. However, patients have a right to speak up when they feel they are being treated disrespectfully. This can be accomplished in a manner that doesn't lead to further conflict."
McClain's guidelines include:
1. Taking ownership for one's feelings. Using "I" instead of "you" to avoid sounding accusatory.
2. Having a compassionate attitude. Recognizing that the doctor may be having a bad day.
3. Using humor. A good laugh can help cool the temperature, or thaw the ice.
4. Not hesitating to be straightforward. Sometimes, the direct approach is the best approach.
5. Recognizing that scolding can be a way of expressing concern. If the doctor is worried that the patient is not progressing as well as he/she had hoped, or if the patient has not been compliant, then angry or scolding words can be the doctor's way of expressing frustration.
6. Keeping expectations realistic. The doctor may acknowledge that he/she is behaving in an inappropriate manner, and apologize, or may not.
"Communicating with your doctor. It's not only about what is said but how it is said," McClain concluded.
About Dr. Gary McClain and JustGotDiagnosed.com
Dr. Gary McClain is a therapist, educator, patient advocate and author who specializes in working with individuals who have been diagnosed with chronic and catastrophic medical conditions, focusing on issues that include coping emotionally, gathering information, making lifestyle and treatment decisions, managing relationships, and communicating with healthcare professionals. As "Dr. Gary," he blogs on patient social networking boards on AllianceHealth.com. Founded and developed by Dr. McClain, JustGotDiagnosed.com offers information, guidance and inspiration for newly diagnosed patients, their caregivers, and healthcare professionals. His program for newly-diagnosed patients, Prepared for the Road Ahead ™, is focused on the emotional, lifestyle management, communications, and vision for the future. Visit JustGotDiagnosed.com.