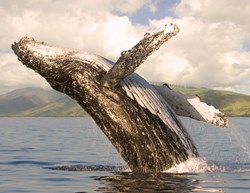 Our guests look forward to experiencing the show mother nature's creatures put on for them. Our guests tell us that the memory of the experience is something they cherish for a lifetime, and something they love to share with family and friends.
Maui, HI (PRWEB) September 16, 2013
Specialized massage therapists treat guests in the warm water in front of Four Seasons Resort Maui at Wailea. This is the resort spa's signature Wai-Vari water treatment therapy, an amazingly therapeutic treatment. A unique weightless experience designed specifically for relieving physical discomfort and mental stress. Add to this the fact that in whale season, the participants actually hear the whales singing underwater while experiencing the treatment. Memorable, to be sure.
The majestic, acrobatic humpback whales, now off the coast of Southern California, are making their migratory trip toward Maui, Hawaii. Four Seasons Resort Maui at Wailea is getting ready to welcome them, along with guests; promising these majestic 50-foot mammals are sure to make this the best whale watching season ever. There will be many opportunities for guests to get in on the action, including daily close-up viewings from the luxury resort's prime beach location.
While the official season runs from December through April, it is not uncommon to have the first sightings in October and November. Thousands of whales make the migratory trip to Maui's tropical shores each winter.
"Every year we get to welcome these much beloved whales to our shores," says Four Seasons Resort Maui's General Manager Jean Claude Wietzel. "Our guests look forward to experiencing the show mother nature's creatures put on for them. Our guests tell us that the memory of the experience is something they cherish for a lifetime, and something they love to share with family and friends."
Four Seasons Resort Maui can customize a whale watching program to help guests enjoy watching these gentle giants of the sea. Here are at least seven different, unique whale watching encounters available to guests. They can enjoy one or more or take advantage of all opportunities. Several are complimentary:
Kayak Tour: Join the Resort's onsite water experts, Maui Undersea Adventures, who educate tour guests on the ocean's ecosystem, taking in the spectacular vistas of the Wailea coastline while on the hunt for close encounters with the migratory whales;
Outrigger Experience: Learn the history and the how-to of this Hawaiian paddling sport. This experience is complimentary. While keeping eyes and camera ready for whale sightings, be sure to look over the side of the boat to see the abundance of sea life—reef fish, sea turtles, manta rays and many other species.
Catamaran Sail: Step aboard the Alii Nui catamaran for a two-hour whale watching trip in Maui. This first-class excursion will include round trip transportation to the harbor, full bar and beverage service, an array of pupus, and the whale watching is guaranteed or guests will be treated to another trip.
Helicopter Tour: From the sky, explore two islands and the whales in between on Sunshine Helicopter's Molokai tour. See the highlights of West Maui, then cross the Pailolo Channel to discover Hawaii's tallest waterfalls and the magnificent sea cliffs on Molokai's remote North Shore.
Resort Sightings: Nuzzle up with your loved one in a Naupaka Casabella or lean against the edge of the Serenity Pool, watching the whales put on Maui's greatest show right in front of the Resort. It is another memorable and complimentary feature of a Four Seasons Resort Maui vacation.
In addition, the Resort has collaborated with the Cesere Brothers, a dynamic photography duo who are "artists in residence" and among the few with the authority to swim with and capture the whales' marine moments through their underwater lens. The brothers volunteer their time in the winters to the Keiki Kohola Project and each week they showcase their images at the Resort.
To learn more about Resort rates and Maui vacation packages and to view exciting whale watching video coverage of the many ways to see the whales Four Seasons Maui style, visit the Experience Whale Season web page. And for extra value, earn credit through the resort's Experience More.
About Four Seasons Resort Maui
Maui's first and only Forbes Five-Star resort is nestled on 15 acres of the breathtaking Wailea Coast. The 380-room oceanfront resort property is world-renowned for its comfortable opulence, impeccable service, luxurious amenities, and for living in harmony with its environment and community. The luxury resort in Maui is also home to one of the nation's top-rated spas committed to wellness and three of Hawaii's most acclaimed restaurants—Ferraro's Bar e Ristorante, Spago Maui and DUO, a premium steak and seafood restaurant. This sophisticated home away from home caters to the needs and interests of all generations—offering world-class activities and one-of-a-kind Unforgettable Events, a museum quality art collection, three pools overlooking the azure-blue Pacific Ocean including an adults-only Serenity Pool with exclusive Missoni-designed cabanas, and more. Four Seasons Resort Maui, a Hawaiian vacation destination geared to action adventurers, those guests wishing to practice the fine art of doing nothing at all, and everyone in between.
###
Media contact: Charlotte Novom; Novom Marketing; 714-941-9799