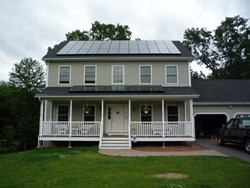 I look forward to working with Ross Solar to bring affordable energy to (solarize) Pomfret's townspeople
Rocky Hill, CT (PRWEB) September 17, 2013
The Towns of Ashford, Chaplin, Hampton and Pomfret have joined forces to participate in a unique solar program offered through the Clean Energy Finance and Investment Authority (CEFIA). The towns will join 8 other communities in Phase 3 of Solarize Connecticut that expects to more than double the amount of solar across the communities over the 20-week program.
Solarize Ashford-Chaplin-Hampton-Pomfret will officially kick off with its first solar workshop on September 24th from 7:00-8:30 PM at Knowlton Hall, 25 Pompey Hollow Road (Route 44) in Ashford. Residents who are interested in learning more about Solarize are urged to attend. In order to participate in the discounts offered through Solarize, residents must sign a contract by February 11, 2014.
Solarize is a unique program offered by CEFIA in partnership with SmartPower that increases residential solar through a proven formula. It leverages group discounts through a pre-selected installer to reduce the cost of solar; it relies on the community to provide outreach and education to create awareness and build interest, and it promotes a clear end date that motivates residents to act. Over the past several weeks, town officials have been interviewing installers and announced recently they have formally selected Ross Solar Group to be part of their Solarize program and do all the solar installations for these four towns.
Town leaders expressed strong support for the Solarize program. First Selectman Bill Rose from Chaplin reported, "Chaplin is pleased to be a part of Solarize phase 3. Working cooperatively with our neighboring towns of Ashford, Hampton and Pomfret offers residents in our rural communities a unique opportunity to act on their commitment to clean energy. We encourage residents to take advantage of this great program."
Representing Hampton, First Selectman Allan Cahill expressed enthusiasm for the town's participation. "Hampton is pleased to be chosen as a Solarize community; we look forward to partnering with Ashford, Chaplin and Pomfret by committing to the Solarize CT Program."
Ralph Fletcher, First Selectman from Ashford, put out the call for residents to get involved in the Solarize program to lower their energy bills. "We fully support Solarize Ashford and the partnership we have with Chaplin, Hampton and Pomfret. We here in Ashford are looking forward to giving our residents the opportunity to add solar to their homes at deeply discounted rates and to earn solar panels for our town buildings as well. We hope that our businesses will also see this as an opportunity for them to begin to reduce their utility expenses and to reduce their carbon footprint. Here in Ashford we have long embraced the option of using clean energy with the establishment of our very active Clean Energy Task Force. We encourage citizens of our partnership towns to come out to the many events we will be holding to show you how you can reduce your upfront costs to Solarize your home, lower your electricity bills and embrace clean energy."
"I look forward to working with Ross Solar to bring affordable energy to Pomfret's townspeople. Through Solarize Connecticut residents can purchase or lease solar photovoltaic systems and realize deep savings. Pomfret will benefit from the collaboration with the towns of Ashford, Chaplin and Hampton; together we can create easier, affordable ways to 'solarize.' This is an exciting and innovative opportunity to bring renewable energy to our communities," said Pomfret's First Selectman Maureen Nicholson.
"CEFIA is extremely proud of what we have been able to achieve through the Solarize program. We continue to see our financing tools and the Solarize model bringing down the cost of solar and making it affordable for more and more homeowners throughout Connecticut", stated Bryan Garcia, President and CEO of CEFIA. "We expect to achieve similar success as we begin the next phase of this innovative program with the participation of these dynamic town leaders and their dedicated volunteers."
More information about the program and the upcoming workshop can be found by visiting http://www.solarizect.com/Ashford-Chaplin-Hampton-Pomfret or contact Ross Solar Group at 203-512-4500 or visit http://www.rosssolargroup.com/solarize.