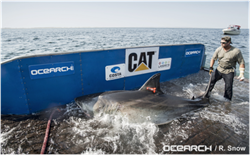 Washington, D.C. (PRWEB) September 16, 2013
OCEARCH is helping to make Science, Technology, Engineering and Math (STEM) education more compelling to students with a new curriculum being unveiled the morning of September 18 in Washington, D.C. The research data generated by OCEARCH delivers STEM learning tools to students that are the future of our nation's ability to compete and thrive, while providing unprecedented progress for the study of sharks through the collaborative efforts of top scientists in the field of shark research.
The Motor Vessel OCEARCH, a 126' one-of-kind research vessel powered by two Cat engines and three generators and equipped with a 75,000 lb. custom shark lift, is visiting the D.C. area on Wednesday, September 18, from 9 a.m. to 11:30 a.m. ET at the Diamond Teague Park and Marine Terminal located at 100 Potomac Ave. SE, Washington, D.C. 20003.
Upon response to this advisory, press can interview OCEARCH Founding Chairman and Expedition Leader Chris Fischer, tour the M/V OCEARCH which serves as an at-sea laboratory, and hear him talk to middle school students from Langdon Education Campus and The Boy's Latin School of Maryland about OCEARCH's new STEM education lesson plans and Global Shark Tracker.
Created by the Curriculum Development Team of Landry's Inc., specifically their Aquarium group, 30 STEM focused lesson plans for grades six through eight are being rolled out in the fall of 2013, with the goal of broadening the audience of students who are interested in STEM education. A full K-12 education program is planned for the future.
"This curriculum is OCEARCH's solution for addressing the nation's workforce and development needs and improving our nation's STEM education pipeline," said Fischer. "By providing fun and exciting STEM education resources implementing this curriculum in the classroom is to inspire students to study STEM fields and ultimately pursue STEM focused careers."
The expedition is in large part sponsored by Caterpillar Inc. as part of a multi-year partnership to help propel global research on sharks.
"Through the work of our science collaborators, Caterpillar helps us generate the data needed to inform policymakers, students, and the general public on issues related to the breeding, feeding, migration and birthing patterns of sharks," said Fischer. "The company's global dealer network enables us to support scientists and countries in need, anywhere in the world, with confidence."
Additional sponsors, such as Costa, Landry's, Yeti, Contender, SAFE Boats and Mustad, facilitate data that is in turn shared on the Global Shark Tracker with the world for free, enabling students and the public to learn alongside PhDs. The Global Shark Tracker is a web-based near-real-time satellite tracking tool for sharks that will eventually be expanded to other species.
Classrooms will be able to leverage what we are learning on our global expeditions based on what we are sharing everyday on the Global Shark Tracker," said Fischer. "It's all about inclusiveness, from classrooms to the general public. We want to share what we are learning real time with the world. Landry's, Inc. is helping us make that a reality."
A new OCEARCH Digital Press Portal with HD video, photography and electronic copy for every shark captured and tagged will be made available to exclusively support press. To request media assets please email press@ocearch.org, for alerts email pressalert(at)ocearch(dot)org.
To schedule a ship visit and interview September 18 during the window of 9 a.m. to11:30 a.m. ET, please contact: Fiona Marcelino press(at)ocearch(dot)org.
Video File - Betsy: https://fischerproductions.box.com/s/6atm30wsmcm3curup1o6
Facebook: https://www.facebook.com/OCEARCH Twitter: https://twitter.com/OCEARCH
Blog: http://ocearch.org/expeditionblog/
YouTube: http://www.youtube.com/user/OCEARCH
Tracker: http://sharks-ocearch.verite.com/
About OCEARCH
OCEARCH is a non-profit organization with a global reach for unprecedented research on great white sharks and other large apex predators. In a collaborative environment established by Founding Chairman and Expedition Leader Chris Fischer, OCEARCH enables leading researchers and institutions to generate previously unattainable data on the movement, biology and health of sharks to protect their future while enhancing public safety and education.
OCEARCH is a leader in open source research, sharing data in near-real time for free through the Global Shark Tracker, enabling students and the public to learn alongside PhDs. The Landry's-developed STEM Education Curriculum, based on the Global Shark Tracker and Next Generation Science Standards (NGSS), is being launched for grades 6-8 in the fall of 2013 nationwide.
Over 50 researchers from more than 20 institutions have collaborated with OCEARCH to date with over three dozen research papers in process or completed. Research expeditions are conducted worldwide aboard the M/V OCEARCH, which serves as both a mothership and at-sea laboratory. Utilizing a custom 75,000 lb. capacity hydraulic platform designed to safely lift mature sharks for access by a multi-disciplined research team, up to 15 studies are conducted in approximately 15 minutes on a live mature shark. Powered by five Cat engines, the M/V OCEARCH is capable of Global Circumnavigation.
OCEARCH expeditions - through the support of Caterpillar and other partners such as Costa, Yeti, Yamaha, Contender, SAFE boats and Mustad - generate satellite tracks and other forms of data for sharks, with planned expansion to other species in the future. Sixteen research expeditions have been conducted to date, with seven more scheduled through the end of 2015.
Questions on OCEARCH and its expeditions, Global Shark Tracker and STEM education curriculum can be directed to info(at)OCEARCH(dot)org. Press or appearance requests can be emailed to press(at)OCEARCH(dot)org. More information and learning tools, including the Global Shark Tracker, can be found on OCEARCH at http://www.ocearch.org.