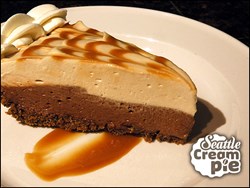 We want Washington to be known for the Seattle Cream Pie.
Seattle, WA (PRWEB) September 16, 2013
Two Seattleites have created a unique, coffee-flavored pie and are courting Washington state government representatives to name their creation the official pie of Seattle and Washington State. It's a trend: earlier this year, the Texas House of Representatives named pecan pie as the state's official pie.
Co-creators Matt Jones and Melinda Hohlbein Loeffler took three years to perfect the pie recipe and have turned to crowd funding to give Washington a pie of its very own. Their Kickstarter project is under way and they have until 5:00pm PST, September 27, 2013, to make their goal of $9400 to fund their three-month plan to put Seattle Cream Pie on the map with 100 partner cafes, restaurants, caterers and hotels serving their pie from Seattle to Boston.
"We knew Washington's official pie had to be about coffee. Seattle elevated coffee to an art form," says Jones. Unlike the Boston cream pie, which is actually a cake, the Seattle Cream Pie has four main ingredients–all of them flavored with coffee. "Espresso-graham crust, coffee-chocolate mousse, macchiato whipped cream and a salted coffee caramel drizzle. The silky texture and layers of true coffee flavor are what make this pie unique. Earlier this year, we started getting tasting notes from chefs, foodies and friends that simply said 'more pie, please' and we knew we had it."
What about the Boston cream pie? Loeffler says, "There's room in the dessert case for all. We want to be Boston's sister pie on the West Coast."
Starting this week, the Seattle Cream Pie is being served to the public at A la Mode Pies, a neighborhood pie shop located across from the Woodland Park Zoo in Seattle. The public can sample a slice of the pie at A la Mode Pies daily from 8AM-9PM until the end of September. "Pie is nostalgic, comforting, and brings people together," says A la Mode Pies owner Chris Porter, also known as The Pie Guy. "After tasting the Seattle Cream Pie, I knew immediately it was something that would catch on as its unique taste highlights all the great flavors Washington State has become known for across the country."
Loeffler says, "We want Washington to be known for the Seattle Cream Pie. This is a coffee town. Governor Inslee, Mayor McGinn and State Senator Frokt are considering the proposal of Washington having Seattle Cream Pie as the official state pie. We're all in."
To become a backer of the Seattle Cream Pie Kickstarter, interested parties may visit their project page now: http://www.kickstarter.com/projects/seattlecreampie/seattle-cream-pie-we-believe-in-the-pie-life
A la Mode Pies is serving Seattle Cream Pie by the slice throughout September and is located at 5821 Phinney Ave N, Seattle, WA 98103. Open 7 days a week, from 8AM - 9PM.
###
Contact information
Seattle Cream Pie
http://www.seattlecreampie.com
Name
Melinda Hohlbein Loeffler
Telephone
425-761-2555
E-mail
melinda (at) seattlecreampie.com
A la Mode Pies
http://www.alamodeseattle.com
Name
Karen Rosenzweig
Telephone
206-419-8407
E-mail
karen (at) onesmartcookiemarketing.com