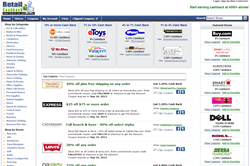 Cash back shopping is becoming popular among consumers, giving an opportunity to save extra dollars from their favorite stores
(PRWEB) September 16, 2013
RetailCashBack.com brings a big treat for online shoppers. Bargain hunters now have the freedom to pocket cash back rewards, as well as appealing online coupons for dozens of top retailers. See a significant rise in savings with cash back rewards that allow members to receive up to 30% cash back rebates at over 1000 popular online stores. These dual benefits will keep shopping for back to school and the coming fall season budget-friendly.
Students and parents can seek deep discounts on latest laptops, smartphones, uniforms, clothing, shoes, backpacks, school essentials, watches, and other basics required for going back to school in a savvy way. Fashion freaks can squirrel away savings on latest trends in clothing and shoes, along with everything else they need to turn heads.
Cash back shopping is becoming popular among consumers, giving an opportunity to save extra dollars from their favorite stores. Retail Cash Back members can look for cash back savings on majority of items they shop online, while stacking up some cash rewards in their bank accounts. Shoppers can find big savings on apparel, nutritional supplements, computers, electronics, kitchen, school supplies, exercise equipment, pet supplies, sports shoes, apparel, and more. Free discount coupons and cash back rewards will instantly double up perks of the members.
About Retail Cash Back:
Founded in 2007, Retail Cash Back is a leading online shopping resource for consumers, providing cash back offers in conjunction to free online coupon codes and discounts. RetailCashBack.com features over 4000 stores, covering almost every category consumers are interested in. Every day the site displays new online discounts and cash back rebates to help shoppers stack additional savings.