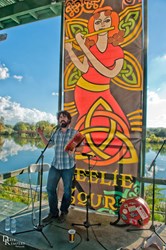 An extremely talented and savvy staff who correctly interprets the traditions of the Celtic Nations presents one of the great music events in the nation each fall.
Austin, TX (PRWEB) September 18, 2013
Come celebrate the cultures of Celtic nations such as Ireland, Scotland through four stages of traditional music and dance as well as storytelling, Celtic animals, professionally instructed music workshops and a full Highland Games competition. This event is a critically acclaimed and world recognized gathering featuring an authentic, genuine experience of the Celtic culture. Join us for this iconic Austin event perfect for the whole family.
Time: Noon to 7:30 Sat and Sun
Gates open at 11am
Fiesta Gardens
2102 Jesse E. Segovia
http://www.austincelticfestival.com
Donate $12 in advance online at the festival website and receive a free ticket for each donation. All proceeds benefit the Celtic Cultural Center. Tickets at the gate are $15.00 a day, children under 13 admitted for free.
The Austin Celtic Festival is proud to host some of the world's leading Celtic artists. This year, Irish music legend Paul Brady joins the festival lineup. Brady has been at the forefront of the Irish music scene for over 40 years. Bob Dylan once dubbed Brady a "secret hero" along with artists Leonard Cohen and Lou Reed. Other popular acts include Scotland's Paul McKenna Band, hailed "the best folk band to come out of Scotland in the last 20 years" by the New York Times, ACF Legacy band The Prodigals from NYC, the world-renowned Hanz Araki Band. Araki will perform with special guests Takeaki Nagahama and Aiko Obuchi, the current leaders of the Irish music scene in Japan, showing that Celtic music is appreciated and performed across the world and in many other cultures. Traditional acts include Keane-Moore-Milton, fronted by James Keane revered innovator of the Irish accordion, The Yanks, multiple All-Ireland Award winners, and The Horan McAuley and McElholm Trio formed by members of the Irish supergroup Solas offer traditional Celtic music with a modern edge. Each year the ACF Music Panel selects top-scoring regional and national musicians to perform at the festival. This year's picks include The Tea Merchants, Silver Thistle Pipes and Drums, The Selkie Girls, Finvarra's Wren and more.
ACF will be providing opportunities for local musicians to attend workshops instructed by many of this year's headlining musicians. Lectures include beginners and advanced Irish fiddle, Scottish Guitar, Irish drum (bodhran), and Whistle/Flute.
The ACF this year will be packed with many other cultural activities for all ages including displays of mini horses, Highland Cattle, Celtic dog parade, traditional storytelling by Mairtin de Cogain (a two time All-Ireland storytelling champ), as well as Highland Games, Viking Invasion demos, primitive Celtic campsite and more.
Four dance troupes (The Hill Country Highland Dancers, Austin Scottish Dance Society, Inishfree Austin Irish Dancers, and the Scottish Country Dance Alliance) will be performing this year at ACF, providing top-of-the-line Celtic dance routines and beginning dance workshops featuring Scottish Country Dance and Irish Ceili (party) dance.
Media badges are available. Please send requests to austincelticfestival(at)gmail(dot)com before 10/26/13.
For more information or interviews, contact: austincelticfestival(at)gmail(dot)com.