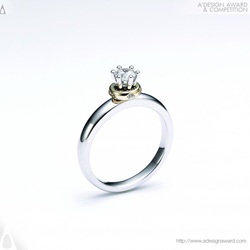 Como, Italy (PRWEB) September 18, 2013
A' Design Award and Competitions are proud to announce that the design Eternal Diamond by Nooni Sohn has been awarded with the famous Golden A' Design Award in the Jewelry, Eye wear and Watch Design Category and selected as the winner by the esteemed arbiters of the A' Design Award & Competitions within numerous projects.
Insights on Eternal Diamond
Imagine that a wedding ring, which should be special and unique, is not that different with others. It would be disappointing and unpleasant. It triggered special design of this ring. It has to be classic, simple and unique, even though new components are added. A golden spinning band revolves horizontally on its center, not just on the body. Initials of the owner can be engraved at the band, which differentiates it from common wedding rings. The band can be designed with a variety of gold colors or with tiny diamonds. Diamonds and initials engraved create its own special joy of design.
To earn more, please visit: http://www.adesignaward.com/design.php?ID=26691.
Project Members for Eternal Diamond
Eternal Diamond was made by Creative Director Nooni Sohn
The Golden A' Design Award
The Golden A' Design Award is a prestigious award given to top 3% percentile designs that has accomplished an exemplary level of excellence in design. The designs are judged by a panel of three different jury which is composed of Academic, Professional and Focus Group Members. The designs are evaluated with score normalization to remove any biases and are voted on aspects such as functionality, ergonomics, engineering, presentation, innovation, usability, fun details, technology, and any other specific points that could be considered; each of these points are further weighted for different jury groups.
About A' Design Award and Competitions
A' Design Award and Competitions aims to highlight the excellent qualifications of best designs, design concepts and design-oriented products. A' Design Award and Competitions are organized and awarded annually and internationally in multiple categories to reach a wide, design-oriented audience. To learn more visit: http://www.whatisadesignaward.com.