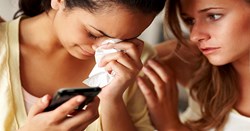 "This movement against bullying needs to gain more momentum and that only happens with sharing knowledge and experience and truly empowering children to stand up for their safety online and everywhere."
London, UK (PRWEB) September 17, 2013
Dr Kate Roberts, a licensed psychologist, family therapist and couples counselor, and wife and mother of two, writes for NoBullying.com today about gaining knowledge as power when defeating cyber bullying.
According to Dr Kate, cyber bullying is the use of technology to harass, hurt, embarrass, humiliate, and intimidate another person. Targets are the same students who are bullied in person; they are vulnerable, have difficulty reading social cues and they are often alone and socially isolated.
Dr Kate wrote of several tips when defeating cyber bullying including talking to the children about cyber bullying, explaining how what you don't know does hurt you, setting cyber safety rules, empowering children to stand up to bullying and many other tips for parents, teachers and children dealing with cyber bullying and bullying.
Dr Kate Roberts wrote, "Being a parent is hard work, now add in Facebook posts, tweets, Instagram pics and Youtube video and it just got a whole lot harder. Not to mention the highly celebrity driven world we live in, it can be taxing keeping up with the latest reality star and idols who get themselves into precarious situations for your child's eyes to easily see."
"In this fast paced society, parents need, in the moment, practical strategies they can rely on," adds Dr. Roberts, "I teach parents cognitive-behavioral tools to help them quickly resolve family issues, without conflict and with confidence."
For more than twenty five years, Dr. Kate Roberts has helped children and families navigate through the ever evolving world of relationships. As a licensed psychologist, family therapist and couples counselor, and wife and mother of two, Dr. Kate offers a unique and highly qualified perspective in her practice, in the media and in her Savvy Parenting blog on Psychology Today.
Dr. Kate has worked as a consulting psychologist to school districts throughout Rhode Island and Massachusetts. She held a faculty position at the Brown University Medical School, Department of Psychiatry as a clinical assistant professor of psychiatry. Currently, Dr. Kate works full time coaching children and families in her private practice outside of Boston and through institutions such as Massachusetts General Hospital.
Macartan Mulligan, Co-Founder of Treze, said, "We are thrilled about the vast array of experts in the field willing to share their knowledge and experience with us to combat bullying." He added, "This movement against bullying needs to gain more momentum and that only happens with sharing knowledge and experience and truly empowering children to stand up for their safety online and everywhere."
He added that parents and teachers should make a point to educate the younger generations about the sad outcome of bullying online and off line.
NoBullying.com features many pages dedicated to parents, teens, teachers, health professionals as well as posts related to cyber safety and the latest news about law making concerning curbing bullying and cyber bullying worldwide as well as inspirational bullying poems and bullying quotes.
The website makes a habit of updating its bullying statistics and cyber bullying statistics regularly because it is essential to understand how widespread the bullying epidemic is.
He also added that anyone suffering from bullying in any form or way can always reach out to the team of NoBullying and they will be given advice on how to stand up to bullying or protect themselves online.
The founders of the website hope that viewers can truly learn about bullying definition as well as school bullying and workplace bullying and put a serious effort to making it stop by education and caution and not by violence. NoBullying.com is not a mere website but an actual movement against bullying.