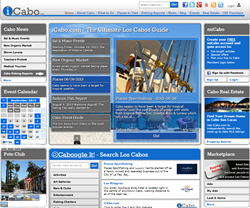 It certainly added a lot of value to our trip and the news feed lets us keep up to date on all things Cabo even when we are at home.
Cabo San Lucas, Baja California, Mexico (PRWEB) September 18, 2013
Traveling to any foreign destination, even one as popular as Cabo San Lucas, can sometimes be confusing and expensive for tourists and lack of relevant, up-to-date information can often hold folks back from getting the most out of their vacation experience. Without good quality information, all you have to go on is the word of the concierge or the bartender… not always the best option and we have all heard horror stories about being ripped off, or worse, due to the recommendation of someone we just met.
iCabo.com was launched in 2012 and has already attracted tens of thousand of information-hungry visitors. It offers a completely free information and guide service to tourists as well as a wealth of current information and news on Cabo; from local culture to special events like Sammy Hagar's Birthday Bash.
Jane Woollam, a visitor from Vancouver Island, British Columbia said: "I was surprised at just how much information was available and how easy it was to use."
"It certainly added a lot of value to our trip and the news feed lets us keep up to date on all things Cabo even when we are at home."
As well as What's On Guides, there are contact details for almost every business, activity provider, restaurant, hotel and bar in Los Cabos with a powerful search facility.
Cabo is known as The Marlin Capital Of The World so to cater to the thousands of anglers who arrive every year, there is a comprehensive section of the latest Cabo fishing reports which include weekly updates from all the major fishing charter companies in Cabo.
One widely used feature is an Interactive Cabo Map that allows visitors view videos, images and content about a huge range of locations and activities in and around Los Cabos.
iCabo.com is different from other, more traditional web directories which are largely funded by banner and Google ads.
William Scott, Managing Director of iCabo.com, explains: "In the old model, unless the local business paid a commission, they would not be featured on any of the websites or promoted by the hotel concierges."
"What we want to do is spread the knowledge to as many visitors as possible that Los Cabos has much more to offer than just beers and beaches and also give them much more choice and information on how to make the most of their stay. Our approach is more about building a vibrant online community than launching a digital magazine full of paid adverts."
"We have already uploaded more than 7000 pages of news and content and we have an aggressive strategy to expand that even more over the next year. That already makes us the largest independent information resource for tourists in Los Cabos. Whatever you want to know about Cabo, we've got it covered!"
Notes to Editors:
iCabo is the trading name of Mexican Corporation iTravel-connected S.A based in San Jose Del Cabo, Baja Sur, Mexico.
iCabo.com is the result of a six figure investment by iPort Software Inc. of Houston, Texas and Coralinn LLP, a private equity fund based in the United Kingdom.
iCabo.com is built using the iPort Business Platform, a fully integrated web technology platform developed by iPort Group International.
Managing Director William Scott is based permanently in Mexico and directs operations from there, employing local Mexican staff to roll out the website.
Contact: William Scott, iCabo.com, Alvara Obregon 1240, Centro, San Jose Del Cabo BCS
Tel: 287 4385
Email chicm(at)iport4business(dot)com
Web: http://www.icabo.com