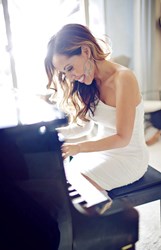 I'm so grateful to my parents for inspiring me and never letting me give up.
Los Angeles, California (PRWEB) September 18, 2013
Franki Love launched a kickstarter.com campaign seven months after losing her mom to cancer. She's using her love for music to produce her fourth album and this campaign to raise $14,000 to produce her latest project. An album dedicated to her mom and all those who have suffered a loss or been effected by cancer. She also plans to donate a portion of the proceeds from music sales to a cancer society.
"I'm so grateful to my parents for inspiring me and never letting me give up. Even when I've experienced so much loss. Losing my parents so quickly. Even when my mentor Phil Ramone inspired me to write my latest album and shortly after passed away. I've learned from each one of them that no matter what we've suffered we must create beauty in the world and I hope to make my contribution through music."
Franki has been featured on KTLA for her efforts to raise funds for previous albums and believes that being an independent artist has the added benefit of keeping the message about real people. Her music video titled, "Shadow" was nominated for "Best Music Video" at the 2009 Hollywood Film Festival. This year she hopes to share her struggle with the loss of both parents the best way she knows how, through her Love for music.
"I'm dedicating this album to my mom and to all those who have been effected by cancer. No matter what happens I really just want to touch people's lives through my music and through our shared experience," says Franki.
Franki Love has only a few weeks left and so far she's raised over $4000 of her $14,000 goal. She's determined to stay true to the style and efforts of her own hard work so she's focused on raising the money and producing the album through her campaign. Still, she needs help and support to get the word out, to back her crowd sourcing campaign and to stay focused on the task at hand. For the cost of a single album, anyone can help make one and you can be part of something that comes from loss and lives on in the courage and conviction of the artist. In this case, it's Franki and her album titled, "In your shoes."
Franki Love is an award winning singer/songwriter and pianist. In her spare time she teaches recording artists, singers and children to develop their talents on the piano and voice. She's written three independent albums and is currently working on producing her fourth through her kickstarter.com campaign at: http://www.kickstarter.com/projects/1997077788/franki-love-new-album.