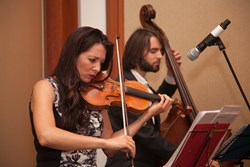 Events like this evening only serve to show the increasing relevance between Azerbaijan, Scotland and the rest of Western Europe.
Glasgow, Scotland (PRWEB UK) 16 September 2013
On 15 September, the spirited music of Azerbaijani violinist Sabina Rakcheyeva and the Deco Ensemble entranced more than 200 Liberal Democrats attending this year's party conference in Glasgow. Sabina was the first Azerbaijani graduate from the Juilliard School in New York and is the Arts and Culture Advisor to The European Azerbaijan Society (TEAS). The talented musicians performed a vibrant mix of standards, tangos and their own compositions.
Attended by such leading LibDems as Simon Hughes, Deputy Leader of the Liberal Democrats; John Leech MP; John Pugh MP; and Lord Newby, Liberal Democrat Chief Whip in the House of Lords and Deputy Government Chief Whip in the House of Lords, this TEAS event was organised to increase awareness of the ongoing close relationship between the Azerbaijan and the UK. This remains the leading Foreign Direct Investment (FDI) contributor to the country, chiefly through the operations of BP regarding gas and oil exploration in the Caspian Sea. This year, Azerbaijan has added relevance to the EU, as the agreements to facilitate construction of the Trans-Adriatic Pipeline (TAP) have been finalised. Scheduled for completion in 2018, this will bring Azerbaijani gas from the European border of Turkey to Italy, ensuring EU energy security and permitting supply diversity.
Lord German said: "Music remains central to the cultural identity of Azerbaijan, which only regained its independence 21 years ago. Its rich and varied musical heritage, which includes influences from western jazz and classical music, are also indicative of the country's ongoing integration into the European family of nations. I am passionate about many musical genres myself. I have previously been delighted by the performances of Sabina Rakcheyeva and the Deco Ensemble, particularly their spirited renditions of works by Argentine composer Astor Piazzolla, which they interpret with an Azerbaijani flair."
Lionel Zetter, Director, TEAS, commented: "I am pleased to welcome so many Liberal Democrats to tonight's event. Azerbaijani music is renowned for its vibrancy, and we can expect a treat this evening. Tonight's event in Scotland is most appropriate, for Aberdeen is the energy capital of Europe, and is the headquarters of BP's North Sea exploration and production businesses, and BP is also the leading overseas investor in Azerbaijani energy exploration. Hundreds of Azerbaijanis have made their homes in Scotland over the past two decades, and the reverse is true in Azerbaijan. Events like this evening only serve to show the increasing relevance between Azerbaijan, Scotland and the rest of Western Europe."