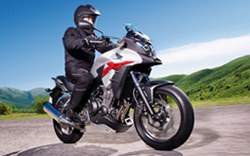 Give cars space and don't expect anything of any other driver.
(PRWEB UK) 18 September 2013
aquote bike are concerned that the UK's bikers are not taking the hazards of heavily over used roads seriously, and could be endangering themselves, and others. In early August the Department for Transport issued its report for Q2 in 2013. The figures have shown that the traffic on Britain's roads has seen on average a growth of 2.9%. This rise is seen across the whole of the UK and on all road types, but with motorways being the worst affected with the increase rising to 4.9%. This makes navigating the roads a lot more dangerous for all road users and especially motorcycle riders. aquote bike want to make sure bikers are more aware of the dangers by providing some top tips.
With part of the increase in road traffic being due to more goods vehicles on the roads, motorcyclists need to make sure they are clear with signals, and visible at all times. Motorbiker's are obviously a lot smaller than lorries and cars, so they are naturally much more vulnerable. To help counteract this issue, it is important when behind any vehicle to stay far enough behind to be visible in the mirrors, and to make eye contact with other drivers where possible. This will alert them to the presence of a motorcyclist.
Whilst motorcyclists can enjoy relative freedom on the roads compared to other motorists they must make sure they are aware other user's behaviours. Though it seems intuitive to motorcyclists, the perspective is very different when in a car and there is a bike approaching from behind.
When riding in congestion, one of the key elements to be aware of is the actions of other drivers in congestion as, usually, the margins for error are considerably less than they would be on empty roads. Just because a driver is indicating to turn left, that doesn't mean that they will be turning left and cannot ride accordingly.
It's a wise idea to actually give more room in congestion than you would otherwise. It's much harder for cars to move lanes and navigate one way systems when things are going slowly, and this could mean erratic movements. Give cars space and don't expect anything of any other driver.
Undeniably the roads in the UK aren't always the most pleasant place to be and drivers and bikers alike have often suffered disputes and unrest. Whilst it is difficult to account for the actions of others, courtesy really does have a place to play in busy traffic.
Thanking other drivers, safely letting out cars in busy traffic and always signalling intentions clearly is critical to getting by in congestion. Courtesy will pay off and even in the event of a minor accident or dispute, it's much better to keep emotions in check, get all the information required in the event of any motorcycle insurance claim and to leave the scene calmly.
Taking time, being patient and considerate will make handling heavy traffic easier in the log run.