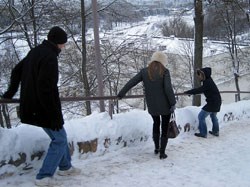 Last year we had prolonged snow when it finally came in January
(PRWEB UK) 18 September 2013
There is no clear forecast for this year, but one thing is for sure, whatever weather is predicted it can very quickly change. This summer has been better than expected, as many regions were spared the major flooding that happened last year. Last winter was a bit rough, to say the least, with heavy and prolonged snow fall in January. The forecasters keep saying that there is only a bad winter every 5 or 7 years, but it seems to be happening more consistently over the last 4 years. Derbyshire Aggregates recommends that people prepare by expecting the worst.
There will always be shortages of rock salt, as the supply can never cope with unseasonal demands and the logistics of delivering all over the country whilst conditions are poor causes delays and holdups. Derbyshire Aggregates are building rock salt stocks for the season now. Both poly bagged and bulk bagged salt is ready to ship, and sales are increasing now that it is September.
 
Snow clearing is the last thing on people's mind until it starts snowing, and then if they are not prepared it can be difficult to get through. Derbyshire Aggregates have been trying a new type of snow shovel and snow scoop with metal edged blades rather than the traditional plastic type. These are more effective than the plastic ones, which can easily blunt and buckle under heavy use. The new metal edged type cut through even heavily built up areas with ease. They have a  larger surface area to move fresh snow much more quickly. This makes digging out cars or clearing paths easier. The snow scoop quickly clears large areas of snow, leaving a more clean and smooth finished product before rock salt is spread.
 
There is no doubt that councils and large businesses have realised that the winters are becoming more unpredictable, and have geared up with more equipment and better stocks of rock salt, which will improve conditions of the first onset of bad weather. If communities and citizens are better prepared, then the impact is always more gradual. It is hard for the authorities to keep main routes open -- never mind all of the others -- so be prepared; get your rock salt early.