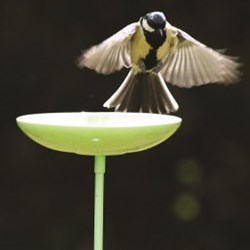 It is important that people all across Britain leave out and maintain the supply of appropriate foods to give garden birds the best chance of surviving the winter.
(PRWEB UK) 17 September 2013
September and October are important months in the birding calendar, this is when Britain's garden birds prepare to migrate, hibernate or survive the winter. The autumn months are a brilliant time for watching wildlife as birds; insects and mammals are all busy eating as much as possible, to help them embark on their various autumn activities.
It is important that people all across Britain leave out and maintain the supply of appropriate foods to give garden birds the best chance of surviving the winter. Garden Bird's recommended foods for autumn include:

Suet Balls- These are the ultimate fatty snacks for birds as the weather cools off. Made up of over 80g of top-quality suet and packed with sunflower seeds and other nutritious mixed seeds they are ideal autumn treats.
Premium Quality Peanuts- Packed with nutritious oils, birds absolutely love peanuts and it is the traditional autumn food.
Ultiva® Gold- This bird seed mix is an ideal all round food with its nutritious and oil-rich properties.
Along with food Britain's garden birds need shelter and water, it is important to top up bird baths with clean, fresh water as falling leaves can cause puddles, ponds and bird baths to become stagnant which is extremely unappealing to birds. Autumn is the perfect time to put up new bird boxes and relocate old ones that have been uninhabited for a year or more. It has only recently been discovered that there is not enough places for birds to shelter over the winter months, so installing new nest boxes will make a real difference to the survive of the UK's favourite birds. When installing a nest box it is important to note that, they should face way from strong northerly and easterly winds, face away from direct sunlight, ideally secured around 6 feet up a tree or post to reduce swaying and finally away from smothering vegetation that make reaching the box difficult.
With Garden Bird's summer sale coming to an end now is the perfect time to snap up some essentials for the autumn and winter months. With savings of up to 56% off nest boxes, up to 59% off decorative feeders and 63% off bird baths, customers can grab a bargain. However with many of the lines being the last chance to buy, customers need to hurry so they don't miss out.
According to the BBC (2012) birds come and go between their favourite feeding grounds throughout the day. Ringing studies have shown that at any one time we only see about 10% of our garden visitors. So if you regularly see about 10 blue tits, there are probably around 100 individuals actually using your feeders through the course of the day. This is why is it is so important to keep maintaining the levels of garden feeders even if it appears as if no birds are visiting the feeder.
Garden Bird Supplies was founded in 1994 in Wem in Shropshire and they aimed to provide a range of high quality foods for wild birds to help British's falling populations of garden birds. Today Garden Bird has grown into one of the UK's largest suppliers of wild bird related products by postal order.
Visit http://www.gardenbird.co.uk today to find out more about autumn feeding and view Garden Bird's sale. The friendly team at Garden Bird are always happy to help, contact them on 0800 6444 322 or customerservices(at)gardenbird(dot)co(dot)uk.