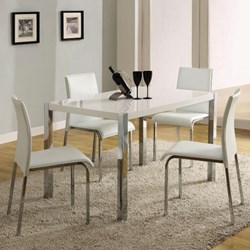 (PRWEB UK) 19 September 2013
FurnitureInFashion offers affordable Stefan high gloss dining table and 4 chairs for the interested customers. FurnitureInFashion success has been based on providing high quality German-manufactured furniture, shipped in directly from their 500,000 square foot warehouse in Germany. They produce the top quality furniture items and home fittings for domestic and professional use. Their product is famous among do-it-your-self home owners, people who did the home remodeling by themselves, and the professional interior decorators. They are famous for the extensive product range and their innovative designs.
Furniture buying can be a problem if you do not have the right kind of information and if you do not look at the right website or company, for many people, furniture buying is once in a decade thing or maybe they change some of the furniture within few years. Many buy furniture to keep it for a long time and that is the reason when people buy it, they tend to go for design and durability both. Today, there are many new trends in the furniture market and fashion is changing very fast.
This product, offered by FurnitureInFashion is very suitable for home use as well as office use. It can also be utilized in hotels and hostels. It is a contemporary looking hi-gloss dining rectangular shape table. There are four matching chairs available with this table. The sleekness of this design creates and elegant look and it can be matched with a decorative mirror and console. This item is available in gloss black table and black chairs also. The Germen quality with ultimate style is the focus of FurnitureInFashion and the offer an affordable price to boot. The size of the table is 47.25" x 31.5".
The spokesperson of FurnitureInFashion told us "we planned to create a design with sleekness and beauty, a product which is within easy reach for everyone. Fashion is for everyone and we at FurnitureInFashion want to provide this opportunity for even the common man to come and buy a chic looking fashionable furniture item to decorate their homes and offices. We are satisfied by the response from our customers and their needs are met since there is beauty with affordability in this set and everyone can afford to redo there room within their budget."
The CEO and Managing Director of FurnitureInFashion said "we are always trying to make it possible for all our customers to find something suitable to their need and budget, and this offer is one of our many efforts to bring the cost down without bringing the quality low. People from all walks of life can now afford to redo or decorate their homes and offices without feeling the burden of a lot of investment in the form of furniture, with a large product range, we offer ample opportunity to mix and match items and create a fashionable balanced look of elegance and beauty. Customer support plays an important role and we focus on this part of our job as well as the other important services like taking orders, shipping in time and making sure that the furniture items reached the destination in peak condition."
About FurnitureInFashion
FurnitureInFashion is a UK-based online retail business. It supplies furniture from its German-based warehouse and has a showroom in Bolton, UK. The company provides everything from umbrella stands, wall art and room dividers, to bedroom suites, bar stools, and computer tables. FurnitureInFashion offers free delivery within the UK and is rightly proud of its excellent customer service. For further information and details about sales, please visit http://www.furnitureinfashion.net.