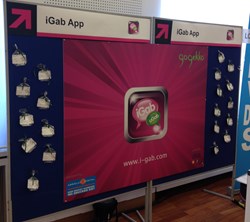 It's Time to Gab!
Hamburg, Germany (PRWEB) September 18, 2013
On September 7, 2013 the Deutsche Telekom hosted its first annual "Startup Night" in Berlin. Hundreds of startups applied to present their companies and the 70 most convincing were selected to participate and present their startup companies. GoGekko, the developers of the iGab app were among the top 70 and presented their iGab app along with their co-operation partner, voice-choice.
The event kicked off at 5:00 pm and ran well into the wee hours of Sunday morning. Aside from the 70-startup teams, there were over 1,500 paying visitors to the event. "The atmosphere among all the presenters was amazing. The event was charged with positive energy. It was a great opportunity to show a large audience the capabilities of iGab and make interesting contacts from all over the world," stated GoGekko Co-founder Kathryn Hagedorn.
"The startup night was extremely well-organized, we were able to concentrate on making contacts and spending time with participants to the event. The event was a great success," stated Gogekko Co-founder Claudia Neumann.
The startup night also gave GoGekko the opportunity to seek new supporters, as well as activate "old" ones. "We have the amazing work of Yvonne Stein from ART of GRAFIK and Absolute Digital Hamburg to thank for the fantastic iGab signage for our stand. Without their creative and financial support, we would never have been able to show ourselves in the right light," stated GoGekko Co-founder Sabine Hutchison-Leidel.
As the Startup Night was a complete success, it is expected that the will become an annual highlight in Berlin.
About GoGekko
GoGekko GbR is a woman-owned mobile app development company based in Hamburg, Germany. iGab, GoGekko's first 3D voice messenger iOS app available on iTunes, was created to provide a fun and personalized way to send mobile messages, without being manually typed. iGab combines the user's voice with a video animated 3D character to create a one-of-a-kind visual message.
iGab brings mobile messages to life.