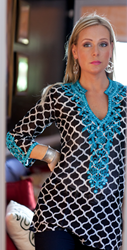 Yatra is fashion with a social mission, which fits perfectly with the missions and beneficiaries of each of these fashion weeks.
New York, NY (PRWEB) September 16, 2013
After only two years of launching their first designs, the Yatra Collection will join the ranks of elite fashion designers and walk the runways of the Martha's Vineyard Fashion Week Sept. 16 to 22, Chattanooha Fashion Week in Tennessee Oct. 2 to 5, and the VA Fashion Week in Southeast Virginia Oct. 9 to 13.
Yatra Collection – India inspired apparel and accessories – pays homage to the India of generations past, but with a contemporary edge.
Yatra, in Indian traditions, means journey. And that's what the collection has been for founders Gayatri Khosla and Rati Bahadur, long time friends who attended boarding school together in India and realized their dreams of one day merging their creative interests in fashion to create their own label.
"To be featured alongside veteran designers and to showcase our designs on the runways is an honor," said Khosla. "The Yatra Collection focuses on simple silhouettes, classic pieces and perfect tailoring for every woman – from models on the runway to working moms like us."
Bahadur and Khosla call women – the women who wear Yatra – their role models.
"The Yatra woman is confident and doesn't hold back from mixing styles together," Bahadur said. "She wears the clothes rather than allowing the clothes to wear her."
"She is feminine and likes to stand out without being ostentatious and embraces fashion as an important part of her life," Khosla added. "You can see her beauty as much as you can feel it because it comes from the inside out."
The newest pieces in the Yatra Collection – hand beaded tunics, hand dyed pashminas with suede fringe and with borders of heirloom saris, and handcrafted jewelry with natural stones – will be showcased during each fashion week.
"Our philosophy is to offer handcrafted designs and promote artisans and trade from India," said Bahadur. "This is fashion with a social mission, which fits perfectly with the missions and beneficiaries of each of these fashion weeks."
Martha's Vineyard Fashion Week (MVFW) is an "exciting atmosphere for local and regional fashion designers, jewelry designers, artists, writers and photographers to showcase their art against the backdrop of The Vineyard's idyllic island setting."
A portion of the MVFW events support Angel Flight North East, which transports patients and families to hospitals nationwide.
Chattanooga Fashion Week is an art and fashion event aimed at "creating buzz and giving a relevant outlet to fashion houses, buyers, and culture enthusiasts in Chattanooga and beyond. The event coordinators are committed to connecting consumers with products and services that relate to fashion, beauty and luxury."
The Chattanooga event supports autism awareness and research through Autism Speaks.
VA Fashion Week, a premier fashion event in Southeast, Virginia, showcases emerging designers and models from up and down the East Coast. The Virginia fashion events will take place in Virginia Beach on Oct. 9 and 10 and then move to historic Williamsburg Oct. 11, 12 and 13.
Now in its sixth season, the VA Fashion Week grows in size and recognition each year and helps raise money to support awareness of and research into breast cancer through The Bra-ha-ha.
The Virginia 2013 event highlights include world-class runway shows, featuring Yatra Collection, design competitions, celebrity guests, a catwalk competition for models and a style emporium featuring designers and vendors from across the East Coast.
This fall and winter, Yatra will travel to, among other locations, Newport News and Richmond, Va., Raleigh, NC, Tampa, Fl., New York, NY and Greenwich, CT for private showings of the collection.
ABOUT THE YATRA COLLECTION: WOMEN WITH A MISSION
Long time friends since they were together at boarding school in India, Gayatri Khosla and Rati Bahadur knew that they would one day merge their creative interests in fashion and design to create their own label. Their complementary styles, interests and expertise have allowed them the freedom to bring the vibrancy and exclusive hand-craftsmanship of India to the western shores.
They design and work with high-end artisans to put together a collection a few times each year. The co-founders travel to India and immerse themselves in the chaos, and the vivid abundance of exquisite craftsmanship of artisans, two aspects that exist side by side and are so typical of India. It is in India that the designs come to life.
Learn more about the Yatra Collection at http://yatracollection.com/.