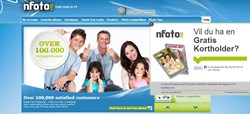 We are very happy with the increased ROI and high sales conversion rate, especially for the Get-a-Fan app. We are looking forward to a long and rewarding association with ShopSocially.
Mountain View, CA (PRWEB) September 19, 2013
nfoto.no, a popular online retailer for photo service and products in Norway, today announced impressive growth numbers from their social commerce initiatives. nfoto recently partnered with ShopSocially, the leading social commerce platform, to implement an innovative on-site social strategy. This initiative has yielded significant increase in sales conversion rate, revenue uplift, Facebook fan growth and user engagement.
Rather than focusing on selling and advertising on social media sites, which hasn't been very successful for retailers, nfoto decided to add social modules on its ecommerce website with the goal to increase engagement and conversion. Specifically it is using two strategies (a) pre-purchase social couponing to increase conversion and (b) post purchase social app to convert every shopper into a word-of-mouth brand ambassador.
The pre-purchase social couponing app offers their website visitors a coupon for a free product in exchange for becoming a Facebook fan. The coupon is being presented in-line, making sure that the users always stay on the site. This simple strategy of making a user "earn" the discount coupon is resulting into an impressive uplift in sales conversion rate, and increasing Facebook fanbase, improving customer loyalty while also generating word-of-mouth branding via Facebook likes. nfoto is using ShopSocially's fan acquisition app called Get-a-Fan to run this program. Get-a-Fan has allowed nfoto to easily test different strategies and accurately measure the impact.
The post purchase social app offers a coupon for the next purchase in exchange for sharing their purchase with friends on social networks. It not only generates powerful word-of-mouth recommendations, it also helps convert shoppers into repeat buyers. nfoto used Share-a-Purchase app from ShopSocially to enable this functionality. The Share-a-Purchase app enables nfoto to make purchases on their site go viral and brings in quality traffic from social referral which is more likely to trust nfoto and convert at higher rate. This is creating significant word-of-mouth recommendations for nfoto on social networks.
Recent Forrester research has shown that recommendations from friends and family have the highest impact on purchase decision. The following social commerce success metrics from nfoto corroborate these research findings substantially:

20% increase in Facebook fanbase in a month
1 out of 2 new fans acquired have made a purchase with nfoto
Extraordinarily high sales conversion rate of 43% recorded for traffic originating out of social sharing of purchases
$400,000 incremental revenue attributable to social commerce apps of ShopSocially
"We are very happy with the increased ROI and high sales conversion rate, especially for the Get-a-Fan app." commented Øystein Bratten, owner of nfoto. "Integrating ShopSocially on our site and managing campaigns has been very easy. We are looking forward to a long and rewarding association with ShopSocially."
Users on social networks are often in leisure mood and hence are less likely to respond to a sales advertisement. In contrast to this, users on an e-commerce site already have a high purchase intent which can be converted into a sale by leveraging power of social media. For this, e-commerce sites should add social commerce modules on their site and benefit from social media influence in context of commerce.
"Social commerce is often misunderstood as selling on social networks. In reality social commerce delivers higher result when social influence is used to drive sales on e-commerce site." said Jai Rawat, CEO of ShopSocially. "nfoto success in Norway is a good example of how social engagement models can drive revenue uplift, increase sales conversion rate and generate word-of-mouth recommendations for an e-commerce site."
About nfoto:
nfoto.no is Norway's coolest photo service where customers can set loose their creativity and create personalized photo products and designs. nfoto.no is located in Bergen, Norway and supplies to consumers throughout Norway. It offers products and services like customized greeting cards, canvas pictures, images development, cards, photo calendars, photo gifts and related products.
About ShopSocially
ShopSocially is a SaaS social commerce platform driving millions of dollars in incremental revenue, new customer acquisition, improved SEO rank, growth in Facebook fan base, and word-of-mouth branding for 100s of top brands.
ShopSocially platform enables a suite of onsite social apps for ecommerce sites. Examples of these apps include Ask-a-Friend, purchase sharing, fan acquisition, shopping community, social reviews and more.
ShopSocially has won several awards and has also been featured by Facebook in a Social Commerce case study. Launched in Oct 2010, ShopSocially is a privately held company in Mountain View, CA. For contact information, please visit http://shopsocially.com/platform/contact-shopsocially.html.