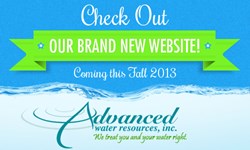 "We treat you and your water right."
Philadelphia, Pennsylvania (PRWEB) September 17, 2013
Advanced Water Resources, a locally owned water treatment business serving greater Reading, Berks, Lancaster and Schuylkill counties, is launching a new website to better educate clients about the importance of water purification as well as the treatment options the company provides. The new website, available at http://www.AdvancedWaterResources.com, ushers in the latest chapter for Advanced Water Resources, which has been promoting healthier water supplies in Pennsylvania since 1953. Since its inception, Advanced Water Resources has served more than 5,000 satisfied customers and aims to expand its reach an serve even more of the community via its informational resources, products and services.
The new Advanced Water Resources website was created with the company's motto in mind -- "We treat you and your water right." The company is committed to this principle and thus the new website makes it easier than ever to understand what kind of impurities - such as tannins, bacteria, nitrate, lead and even arsenic - you may be exposed to without an auxiliary treatment system. Additionally, the new website shows what kind of water treatment services Lancaster PA residents can use to stay safe. On the new site, Advanced Water Resources explains the varying benefits of different types of treatment products and water softeners Lancaster PA home and business owners can install to improve water quality. From water conditioners and filters to acid neutralizers and custom-built commercial systems, Advanced Water Resources makes it easy to find and understand what clients need.
Everything about the new Advanced Water Resources website is intended to promote superior customer service and ease of use. The visual design of the website has been altered dramatically in order to facilitate improved functionality and easier navigation. Additionally, the new website is streamlined so that it loads quickly and allows customers and potential customers to find the information they need without any undue hassle. Part of the Advanced Water Resources' commitment to helping its customers to see the Advanced difference and live better is ensuring every interaction is a positive one and that the valuable time of clients is not wasted.
For those who take the time to explore the new Advanced Water Resources website, the investment will be well worthwhile. The Advanced Water Resources website provides a wealth of information about the company, its services, why water treatment is needed, and provides access to web-only specials. Experience the Advanced difference by visiting http://www.AdvancedWaterResources.com today.