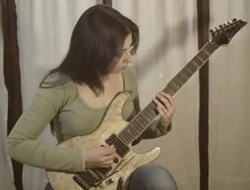 (PRWEB) September 16, 2013
Begun in 1994 by guitarist Michael Romeo, Symphony X is a progressive metal band from Middletown, New Jersey. Their popular albums include The Divine Wings of Tragedy, and V: The New Mythology Suite, Paradise Lost and Iconoclast.
Well-known for her blazing, shred guitar lessons, the Argentinean string wizard here plays an Ibanez six-string and shows her melodic side in a challenging solo that features a little of everything. The tempo is moderate by metal standards, about 120 beats per minute, but this Michael Romeo solo offers many techniques: diatonic scale exercises, tapping, quickly changing odd time signatures (6/4, 13/8, 7/4), neo-classical licks, string-skipping, and even blues-rock riffs.
Alejandra first plays the solo at its proper speed. She then plays each guitar lick twice at a slow tempo for easier learning. There is a link to printable lead guitar tabs written both in music notation and in tablature. Learn how to play the solo by beginning very slowly and building up speed. After getting it down, play along with Alejandra on the video, then try adding original riffs to help develop a personal style.
Hear more of Alejandra's own masterful playing on recordings by the progressive metal band Inventio and on her own projects, which include full helpings of her sweeping, string-skipping and tapping expertise. Enjoy and learn more from Alejandra and all the teachers at Guitarcontrol.com in the many free guitar lessons at http://www.youtube.com/guitarcontrol.
GuitarControl.com, a leader in music education, is the brainchild of Philadelphia guitarist Claude Johnson. Since its launch in 2004, it has offered online and DVD guitar lessons taught by virtuosos in styles ranging from rock, metal and blues to jazz, bluegrass and country to classical, flamenco and fingerstyle acoustic, as well as courses for singers, drums, bass and keyboard, and music software, song collections and jam tracks.