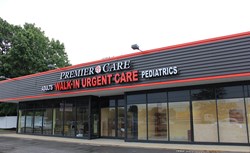 East Meadow, NY (PRWEB) September 17, 2013
Monday, Premier Care of East Meadow opened its doors for business at 1919 Hempstead Turnpike. Premier Care Urgent Care Centers take waiting for hours in the emergency room out of the equation and provide a better solution to those in need of critical care.
Premier Care seeks to provide an alternative to the emergency room and access to care when doctors are unavailable. Patients on their way to the emergency room or doctor's office with an illness of moderate severity have access to Premier Care physicians who are board-certified in emergency medicine. Access to physicians in the urgent care setting allows patients to be exposed to kinder, gentler methods of emergency care services. The office is equipped with an on-site digital x-ray, a laboratory that can provide rapid testing for various illnesses and equipment needed to treat common orthopedic injuries, as well as wounds that may require stiches. Physicians see patients of all ages, from pediatric to adult to geriatric and Premier Care refers patients back to their primary care providers to maintain the continuity of care.
The facility in East Meadow is the twelfth Premier Care Urgent Care Center to open. Offices can be located throughout Long Island, Queens, and Brooklyn.
Premier Care of East Meadow is open Monday-Friday 9a-9p, and Saturday and Sunday 9a-5p. For more information, visit http://www.premiercare365.com or call 516-227-2273.
About Premier Care
Premier Care Urgent Care is an urgent care walk-in medical office serving communities in Nassau, Suffolk, Queens, and Brooklyn and offer care for life's mini emergencies. Get quick access to a medical doctor without an appointment, 7 days a week. Offices accept most major insurances as well as patients without insurance. For those suffering from life threatening conditions, such as a heart attack, or stroke symptoms, please call 911 and visit your nearest ER immediately.
Please contact us at 1-855-NICE-DOC or info(at)premiercaredoc(dot)com with any questions you might have.