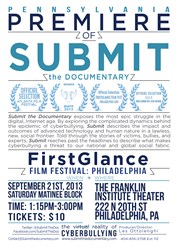 Cyberbullies have more than a fist to attack with.
Philadelphia, PA (PRWEB) September 18, 2013
SUBMIT, a cyberbullying documentary, is being shown with Jedi Camp at the Franklin Institute Theater at 1:00pm for the FirstGlance Film Festival. This unique combinations will bring to light the epidemic facing today's youth in a technological world. Tickets for the afternoon event are $10.00 (http://firstglancefilms.com/tickets/).
The Jedi Camp is Star Wars meets bullying (http://www.jedicamp.com/) with a message to teach children not to bully. Jedi Camp is a 6 episode fan film web series that deals with childhood bullying. When young Lucas heads to Jedi Camp, he learns he needs to do more than learn the ways of the Force to defeat his bully. SUBMIT shows how students, parents, and educators need to come together to reverse the cycle and diminish bullying behaviors in all environments.
Alice Cahn (Cartoon Network) also featured in the film describes SUBMIT as, "It's an impressive collection of interviews with key experts in the field; and offers a sobering look at a devastating health issue affecting America's, and the world's, youth."
Submit the Documentary exposes the most epic struggle in the digital, Internet age: cyberbullying. Cyberbullying is bullying by means of electronic technology committed through email, instant messaging, mobile applications, social media, chat rooms, and blogs or through messages and images sent through a cell phone. Because of the anonymity, kids who never thought of being a bully are becoming harassers. By exploring the complicated dynamics behind cyberbullying, Submit the Documentary describes the impact and outcomes of advanced technology and human nature in a lawless, new, social frontier. In the worst cases, kids and teens take their own lives as the families in Submit the Documentary know all too well. Their narratives describe their close encounters with cyberbullying in heart wrenching detail compared to the lighthearted innocence of kids blithely describing their experience with sexting. Submit the Documentary demystifies the problem by including numerous experts who enlighten parents and viewers to the subculture of social media that children are participating in every day. The experts explain the extent of the problem, roadblocks to solutions, and offer potential, unconventional solutions. (Dir. by Les Ottolenghi, 2013, USA, 56 mins, NR) Digital
Recent film reviews include prominent educational company Common Sense Media which gives the film 4 out of 5 stars, "SUBMIT THE DOCUMENTARY: THE REALITY OF CYBERBULLYING is a compilation of personal stories told from various points of view. It includes interviews with kids, academics, psychologically trained professionals, educators, parents, and law enforcement officials. The statistical information it offers about online bullying (and, tangentially, sexting) is well integrated with the fabric of the movie's intent: to reveal the profound emotional impact of cyberbullying and to propose positive ways of countering it. Cyberbullying is epidemic, the experts testify -- and most of them are stymied by their inability to maintain damage control. Kids are afraid to fight back, afraid to get involved when others are being hurt, and they struggle to avoid intimidation themselves. But the filmmakers aren't satisfied with that bleak picture. They counter with theories that do work -- primarily teaching empathy and educating those they term "bystanders," who are deemed to be the best defense against the predators". (http://www.commonsensemedia.org/movie-reviews/submit-the-documentary-the-virtual-reality-of-cyberbullying)
Upcoming showings of "Submit the Documentary" include a special screening at the Loft Cinema in Tucson, Arizona on October 10, 2013 and the United Nations Association Film Festival in San Francisco showing at the end of October.
For more information on "Submit the Documentary" including videos, references and resources please visit http://www.submitthedocumentary.com/press-2/.