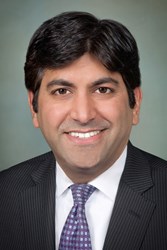 Harnessing the Power of Big Data and Analytics to Compete in the 21st Century
NEW YORK, NEW YORK (PRWEB) September 17, 2013
Big Data IQ and IQPC today announced Aneesh Chopra, the first Chief Technology Officer of the U.S., will keynote the 2nd Big Data Business Forum taking place Nov. 13-15 at the Hotel Nikko in San Francisco. Chopra, who was appointed by and reported directly to President Barack Obama, will provide his expert knowledge on the steps needed to create a data driven organization in his speech, "Harnessing the Power of Big Data and Analytics to Compete in the 21st Century."
During his tenure as a technology visionary serving under Obama, Chopra helped advance the National Wireless Initiative, a set of Internet policy principles that informed the White House response on proposed online piracy legislation. The initiative is also an open innovation movement that delivers results by crowdsourcing citizen expertise to solve problems and grow the economy.
"As the federal government's first chief technology officer, Aneesh Chopra did groundbreaking work to bring our government into the 21st century. Aneesh found countless ways to engage the American people using technology, from electronic health records for veterans, to expanding access to broadband for rural communities, to modernizing government records. His legacy of leadership and innovation will benefit Americans for years to come, and I thank him for his outstanding service," said Obama upon Chopra's departure from the position in 2012.
Chopra previously served as Virginia's secretary of technology and was a cabinet member on the Council on Virginia's Future where he launched the Productivity Investment Fund to spark innovation in state government. Prior to joining Virginia Gov. Tim Kaine's cabinet, Chopra served as managing director with The Advisory Board company, a publicly traded healthcare think tank serving nearly 2,500 hospitals and health systems where he lead two research programs and helped launch its first business intelligence software solution.
In 2011, Chopra was awarded the Wireless Foundation's Industry Achievement Award for Outstanding Leadership, National Association of State CIOs' Technology Champion Award and was named to Modern Healthcare's list of the 100 Most Influential People in Healthcare. In 2008, he was named to Government Technology magazine's Top 25 in their "Doers, Dreamers and Drivers" issue.
About the 2nd Big Data Business Forum:
The 2nd Annual Big Data Business Forum taking place November 13-15, 2013 at the Hotel Nikko in San Francisco is a must-attend event bringing together top technologists, analysts and business executives under one roof and will ensure you will learn the strategies that suit your KPI's and your role within the big data spectrum. For more information, visit http://www.bigdatabusinessforum.com.
About Big Data IQ:
Big Data IQ is a cross-industry, cross-functional, multi-media community platform for business leaders responsible for collecting, managing, and analyzing vast amounts of data to make faster and better business decisions.
PRESS CONTACT:
Stephanie Gonzalez
Marketing Manager, Commercial Events
International Quality & Productivity Center (IQPC)
Email: Stephanie.gonzalez(at)iqpc(dot)com
Phone: 212-885-2685
Web: http://bit.ly/1gnWRPQ
-- end --